Heathrow Launches New Consultation on Extended Airport
---
Wants public's views on third runway and flight path management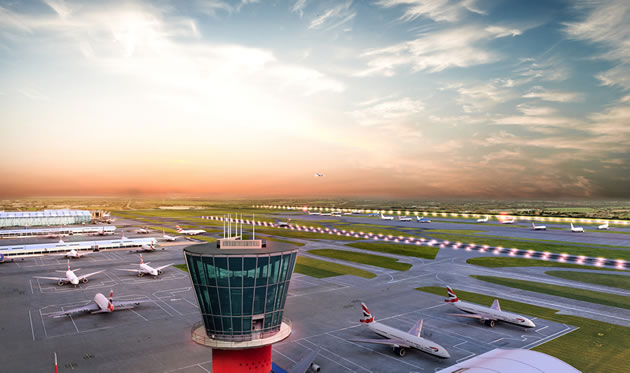 CGI image of how extended airport might look
Heathrow Airport is holding a consultation on their plans to expand including options for a third runway and how flight paths are managed.
The consultation period is ten weeks and the result will be in before a Parliamentary vote in the first half of 2018 on a National Policy Statement for a new north-west runway.
Heathrow say it has been working alongside local stakeholders and airline partners to evolve the plans it submitted to the Airports Commission. As a result they claim that the overall cost of the plan has been reduced by £2.5 bullion. They have made a renewed commitment to introduce a 6.5 hour ban on scheduled night flights and the promise to only release new capacity if air quality limits can be met. Anti-expansion groups have described the consultation as premature, criticised Heathrow for not providing information on where the new flight paths will be and have called into question their ability to deliver on promises made so far on noise and pollution.

The consultation will be composed of two parts – the first relates to the physical changes to the ground needed to build a new north-west runway and operate an expanded airport. Feedback is being sought on potential infrastructure options including:

 Three shortlisted options for the new north-west runway with length varying from between 3,200 and 3,500 metres
 Potential locations to expand terminal infrastructure: east of Terminal 2, west of Terminal 5 or a new satellite terminal by the new runway
 Proposed alignment of the M25: repositioning it approximately 150 metres to the west, and lowering it by 7 metres in a tunnel and raising the runway height so it passes over the M25
 Options for changes to local roads and possible changes to two junctions leading to the M25

The airport is also asking for the public to review its plans to manage the effects of expansion on local communities and the environment.

The second part of the consultation relates to potential principles, or 'rules', that could apply when designing the new airspace required for an expanded airport. At this early stage, future flight path options are not being consulted on but new flight paths that will be brought in whether or not a third runway is given the go-ahead. Flight paths will need to change because of computer technology which allows flights to land and take off much more precisely. The consultation will ask people what are the principles which should inform the design of the new flight paths, whether, for example, all flights should be narrowly concentrated over certain areas or whether multiple flight paths should be created which would be rotated to give each community some respite from the noise. Campaign group HACAN favours multiple flight paths to avoid the creation of 'noise ghettos'.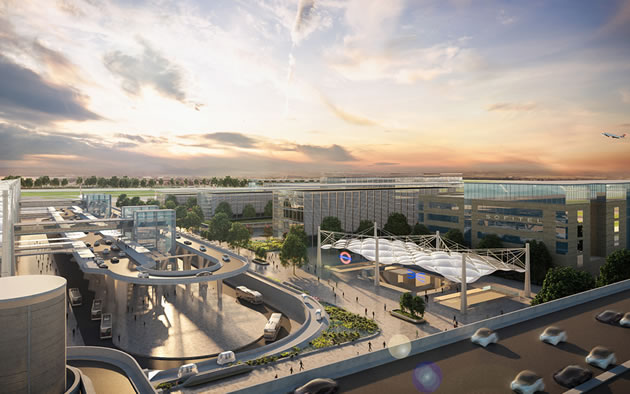 Possible design for expanded terminal

Responses can be submitted until the 28 March at any of the 40 consultation events held across communities surrounding the airport and also online, via email or post. Any revised proposals coming from the responses will be subject to a second public consultation next year. Parliament is expected to vote on a National Policy Statement in the first half of this year, which will set out the policy framework for Heathrow's final planning submission.

Emma Gilthorpe, Heathrow's Executive Director Expansion, said, "When the government announced its support for Heathrow expansion it made a clear commitment to keeping Britain open for business. We want an expanded Heathrow to be the world's best airport, ensuring that our country and its future generations have the infrastructure they need to thrive.

"We need feedback to help deliver this opportunity responsibly and to create a long-term legacy both at a local and national level. Heathrow is consulting to ensure that we deliver benefits for our passengers, businesses across the country but also, importantly, for those neighbours closest to us."
Comment from John Stewart, chair of HACAN, a campaign group which is opposed to the expansion said, "It is a surprise that Heathrow has opened up the possibility of a shorter runway. They have done so under pressure from the airlines to cut costs but it must leave them open to a legal challenge from the likes of Heathrow Hub as the Airports Commission favoured the 3rd runway over the Heathrow Hub proposal partly on the grounds that it would provide more capacity. It was also the longer runway the Government consulted on in its recent consultation on the National Policy Statement.
"A legal challenge would bring further delay and may result in the Government needing to consult again."
Heathrow Airport have subsequently contacted Mr. Stewart to clarify the significant of the shorter runway option saying. "(Slightly) shorter runway one of the options being consulted on, but only as a way to reduce impacts on local villages and if it can deliver everything else - schedule, respite, etc – that we set out for the Airports Commission."
Back Heathrow's Executive Director Parmjit Dhanda said, "We will be working hard to make sure that local voices are heard, that the airport is held to account and to ensure that environmental promises made are kept".
Rob Barnstone, Coordinator of the No 3rd Runway Coalition, said, "This consultation is very premature given that the parliamentary scrutiny of the proposals for expansion of Heathrow are a long way from being completed. Heathrow should calm down and await Parliament's verdict.
"The consultation has major gaps in information including the lack of any information on new flight paths and robust plans to address issues arising from expansion including air quality and roads and rail around the airport.
"There is also no evidence that Heathrow can deliver on promises made to local communities. All of its promises are, as usual, 'indicative.'"
Consultation exhibitions:
Friday 9 February, 12pm-8pm: Ealing Town Hall, New Broadway, EALING W5 2BY
Friday 16 February, 12pm-8pm: Community Church Putney, Werter Road, PUTNEY SW15 2LL
Tuesday 20 February, 12pm-8pm: Hammersmith Town Hall, King Street, HAMMERSMITH W6 9JU
Thursday 22 February, 12pm-8pm: Antoinette Hotel Wimbledon, The Broadway, WIMBLEDON SW19 1SD
Tuesday 27 February, 12pm-8pm: Holiday Inn Brentford Lock, Commerce Road, BRENTFORD TW8 8GA


January 18, 2018