Consultation opens to Southfields residents on council proposals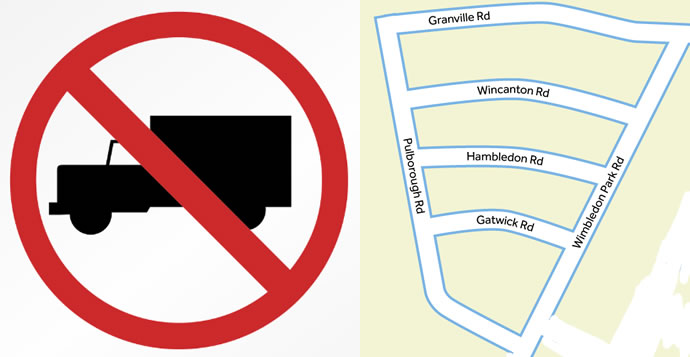 Residents in an area of Southfields known as The Triangle are to be asked if they support council proposals for a lorry ban in their neighbourhood.

The council's highway engineers have drawn up plans that would see lorries weighing more than 7.5 tonnes barred from entering four quiet residential streets just off Wimbledon Park Road.
The ban on HGVs would prevent them using Pulborough Road, Wincanton Road, Hambledon Road and Gatwick Road as a cut-through.
The action is being proposed following complaints from some local residents about the number of lorries trundling down their street. As well as expressing safety concerns some residents have complained about parked cars being damaged by passing lorries.
As a result, residents of The Triangle are now to be asked if they support the plans to ban HGVs from using their streets. The ban would not apply to refuse trucks, firefighting vehicles or to bona-fide deliveries by larger lorries to homes in the area.
Every home in the Triangle will shortly receive a letter outlining the proposal and inviting residents to take part in the consultation, which runs until September 29.


Transport spokesman Cllr Jonathan Cook said: "It's important that local people take part and tell us what they think so that we can act accordingly.
"Our view is that a lorry ban in these neighbourhoods is the right way forward but it's important for local people to have their say."

Local people can submit their views to HDTS@wandsworth.gov.uk

June 7, 2018