Further strikes thought likely after three days of industrial action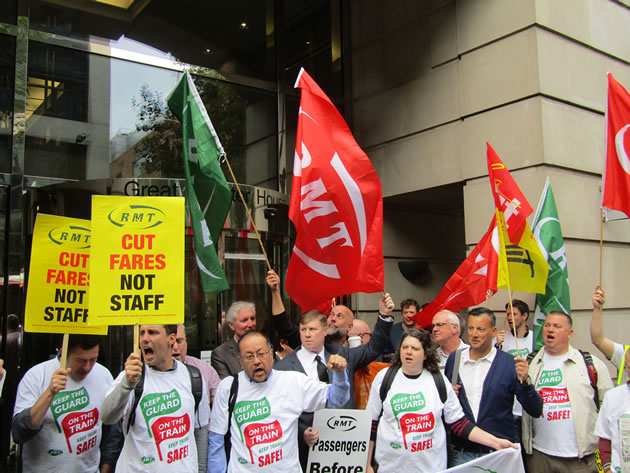 RMT members demonstrate outside the Department of Transport
The two sides of the dispute on the issues of guards on South Western Railway trains seem no closer despite three days of industrial action so far this year.
The RMT union have held a series of strikes on South Western Railway services on January 8, 10 and 12. In addition there was a strike on Southern Rail on January 8.
Despite some hopes being raised of a resolution of the dispute arising out of talks held just after the New Year neither side appears prepared to budge from their current position.
South Western Railway claims they managed to run 70% of scheduled services during the strike days and problems were further mitigated by using longer trains. Commuters appear to have experienced fewer problems tha during previous industrial action but this may have been down to many using alternative routes.

Andy Mellors, the managing director of South Western Rail said, "I met with the General Secretary and other RMT representatives to discuss a framework we had put forward to try and resolve the dispute, which is around the new fleet of suburban trains we will start to introduce in late 2019. It reiterated our previous guarantee to roster a Guard on all our trains, with proposals that we should work together to agree arrangements to ensure passengers can still get home on the rare occasions that a Guard be unavailable at short notice and a replacement cannot be found."
RMT general secretary Mick Cash said, "It is frankly ludicrous that we have been able to negotiate long-term arrangements in Scotland and Wales that protect the guards and passenger safety, but we are being denied the same opportunities with rail companies in England.
"This suspension of normal industrial relations by the employers has to end if we are to make progress towards a solution that guarantees safe rail travel for all. RMT stands ready for talks."
A Department for Transport spokesman said, "This is a dispute between a private company and the RMT.
"However, the transport secretary recognises the disruption caused to passengers and has met with union leaders on several occasions, including as recently as December, to help bring an end to the strikes.
"Nobody is losing their job as a result of driver-controlled operation trains, employees have been guaranteed jobs and salaries for several years."

Live Updates on South Western Rail Services
January 12, 2018