Merton Council's planning committee sits this Thursday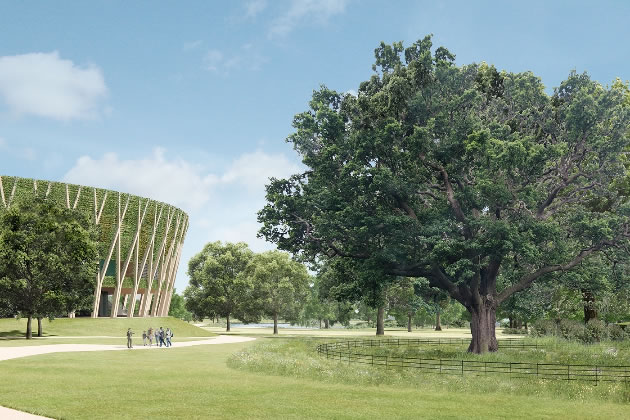 CGI of the completed scheme. Picture: AELTC
October 24, 2023
Residents in Wimbledon and Southfields are about to reach the next chapter of their ongoing battle against the proposed expansion of Wimbledon tennis club into Wimbledon Park.
The controversial plans put forward by the All England Lawn Tennis Club (AELTC) face their next stage in the permission process at a Merton planning committee this Thursday (26 October). If Merton Council gives the green light to the plans and the environmental assessments, it will signal a significant step forward for the internationally recognised sports body.
The expansion will see the AELTC extend its SW19 complex over the road into the public Wimbledon Park. It then plans to develop the area with a new 8000-seater show court, 38 additional practice courts and other player and administrative amenities.
AELTC has said one of the reasons for expansion comes from its desire to hold the Championship's qualifier rounds in-house rather than at their current location in Roehampton. The plans have attracted a particularly strong groundswell of public opposition from park users and local residents alike. This opposition includes the two local constituency MPs, who sit across the House from one another.
Save Wimbledon Park campaigner and Southfield resident, Simon Wright, 66, told the Local Democracy Reporting Service how AELTC has alienated residents since the initial consultation process. He said, "They have been evasive. I'll give an example. I organised a meeting in my local St Barnabas church in Southfields. We had over 300 people turn out to discuss and fully understand the proposals. Both MPs spoke at the meeting.
"We emailed the chair and CEO of AELTC saying there's a lot of local interest at this meeting, please come along and explain your proposals. They refused to send anyone to talk. At the end of the day, we are individuals from a community versus an incredibly rich, incredibly powerful sports institution. 'David and Goliath' doesn't come into it."
Wright added: The first stage of the consultation was a lot of fluff, pretty pictures and artists' impressions. It was only when they got to stage three of the consultation that we started to explicitly see and hear of the 8000-seater stadium and practice courts. I thought, why didn't you mention this in the first place."
Another bone of contention is the potential environmental impact. Wimbledon resident and park user Jonathan Morrish told the LDRS, "There are a lot of issues around the environment. When you're bulldozing 75 acres and then claim there is biodiversity net gain when you're pouring 7000 tonnes of concrete we have a real problem on our hands."
On their dedicated Wimbledon Park project page, AELTC stated, "The new 23-acre public park will be completely free for the local community to enjoy and will be accessible year-round except for the period during Qualifying and The Championships. This will open up a beautiful new parkland on what was previously a private golf course and which has been inaccessible to the public for well over 100 years."
However, residents opposing the expansion remain sceptical to talk of a new public park and point to the history behind the expansion for their reasons why. Morrish told the LDRS: "This will not be a park, this is essentially a service area to a sports event. They have said they want to close it for the three weeks of the tournament, but in theory they could restrict access whenever they want if they get permission."
"You've got 9.4k paving, ten buildings, 38 tennis courts, you've got an 8000 seater stadium, you can't call this a park. It is not public, it will be permissive, and they can close it any time they want outside those times."
"There are rumours at some point that they might want a hotel, who knows. In 2053, who would be there to stop them. Given the fact that both parties made a pact in 1993 never to build on this land, you can understand the nervousness of local residents of everything they're saying now."
Wright echoed these sentiments, saying, "The permission will give them permissive access which means they are under no obligation to open it up to the public. Permissive access could be 10 minutes once a year.
The pact Jonathan spoke of refers to a deal made by AELTC to Merton council when it bought the freehold off the borough in 1993. Merton council insisted, and the AELTC promised that the 29 acres would be used for recreation and would not be developed.
While the land was partly used as a golf club until 2018, the covenant between the parties still stands. This land is also of interest to residents because of its Metropolitan Open Land designation and status as a park designed by the famed gardener Capability Brown.
According to residents, AELTC was only able to buy the land back in 1993 because it was the bidder that promised not to develop on the land. It secured the land for a relatively cheap price of £5m because it was willing to enter into such an agreement.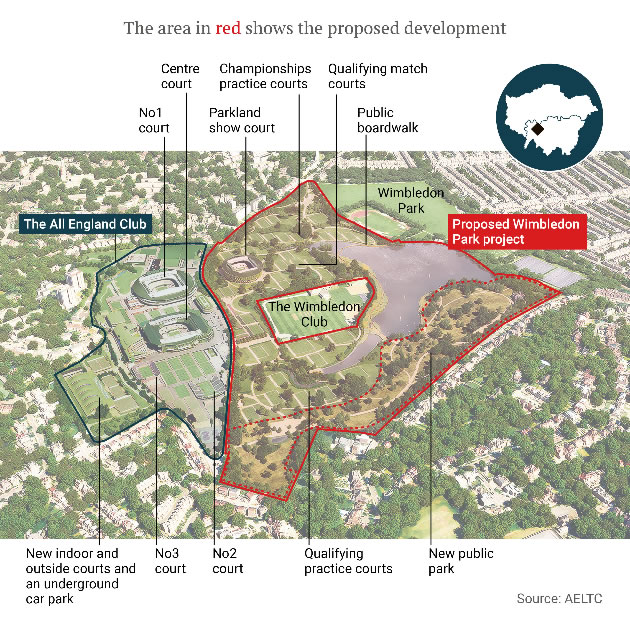 The presence of AELTC and its world-renowned Championships brings a lot of revenue to the borough of Merton. As a result, residents believe the council will most likely vote to support the plans on Thursday. Wandsworth, who receive less in revenue, are expected to have their separate vote on the plans in November.
Despite the vocal opposition, there are also a number of local residents in favour of the development. One such resident is Richard Higgs, whose house looks over the old Wimbledon Park Golf course from Rectory Orchard.
He told the LDRS, "Not everyone hates the scheme. They (AELTC) are the number one taxpayer in Merton and if we are to get out of the woes the country is in, we can't stop businesses that actually pay tax.
"Whatever they do they are going to do quite well. You compare it to other organisations buying that land and doing something else. If there is one organisation that I would be happy with doing it, it would be. "
When asked about the question of permissive access to the park, Higgs said, "I feel more confident about their ability to control things than other public bodies. Wimbledon would not want to screw up, because they've got a fabulous brand."
Despite this, Morrish believes local opposition is strong enough to contend with the AELTC. He said, "This is a huge application. It's enormous, but we're in this for the long haul.
"It's amazing that both MPs are on board. To have two MPs across the house united is rare. Regardless of this decision, the cross-party support and lesser support from Wandsworth will mean that this decision will almost definitely go to the Greater London Authority."
Wright was also confident about their chances and pointed to the group's professional clout. He said:, "The road that will have most of the problems if this scheme goes ahead is called Home Park Road, and it's full of lawyers because they're the only people who can afford houses there. So they couldn't have picked a worse road to try and have a go at. We have so many lawyers on our team as a result."
When approached for comment, Wimbledon MP Stephen Hammond said, "Whilst Wimbledon and tennis are synonymous, and we all wish the Championships to thrive, I believe the scale and size of this application is not in keeping with the local environment. It is also not in keeping with Merton Council's commitment to protect our very limited green space within Metropolitan Open Land. This application appears to breach the covenant that is in existence to prevent building for non-recreational purposes.
I still believe that it is possible to reach a solution which benefits both the AELTC and residents if the scale of the application was reduced."
A spokesperson for the All England Club said, "We are pleased that planning officers at the London Borough of Merton have recommended the AELTC Wimbledon Park Project for approval. The plans will be considered by members of the Council's Planning Committee on 26 October and we hope they feel able to support their officers' positive recommendation."
The decision on the planning application will be made at the Merton council planning committee. While this decision will decide if the authority accepts the planning proposal, it will not define any legal obligations made by either party.

Harrison Galliven - Local Democracy Reporter