One option would see the closure of the unit at St. George's Hospital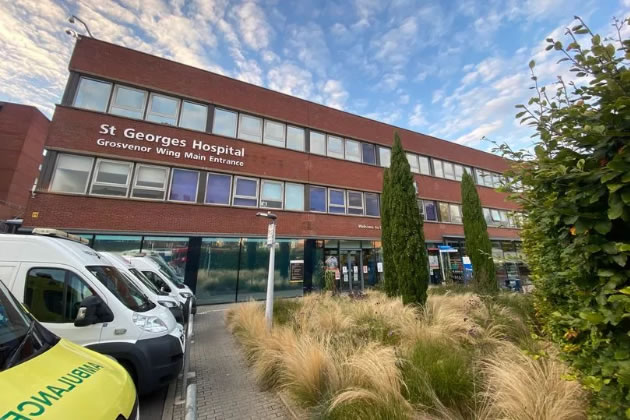 St. George's Hospital
September 28, 2023
The NHS has opened a consultation on proposals that could see a children's cancer centre moved from two London hospitals. The consultation asks for feedback on the future location of the centre providing very specialist children's cancer treatment services currently based at St George's Hospital, in Tooting, and The Royal Marsden Hospital, in Sutton.
The NHS is consulting on two options as it plans to move the centre for South London, Kent, most of Surrey, Medway, East Sussex, Brighton and Hove to one location. It said the current arrangement needs to change as The Royal Marsden does not have a children's intensive care unit on site. A small number of children with cancer who need intensive care are currently transferred safely by ambulance from the hospital to St George's every year.
A new national service specification in 2021 outlined that very specialist children's cancer treatment services must be on the same site as a paediatric intensive care unit and other specialist children's services.
The proposed options for the future location of the centre are St George's, run by St George's University Hospitals NHS Foundation Trust, or the Evelina Children's Hospital in Lambeth, run by Guy's and St Thomas' NHS Foundation Trust. The 12-week consultation on the proposals closes at midnight on December 18.
Dr Chris Streather, medical director for NHS England in London, said both options for the centre's future location are strong and he wants feedback from children, families and staff throughout the consultation. He said: "The Royal Marsden has an impressive track record of delivering high-quality care for children but the pace of innovation in children's cancer treatment means that, to be fit for the future, the centre must move to be with intensive care.
"Like other major centres worldwide, the new centre will then be ready to offer innovative life-saving new treatments that wouldn't be possible under the current arrangements, as they have a greater risk of complications and needing intensive care expertise."
Ashley Ball-Gamble, chief executive of charity Children's Cancer and Leukaemia Group, said: "Whichever location is chosen, the changes proposed will provide all services that a principal treatment centre must have on site in one location, resulting in more seamless care for children and a high-quality experience for their families."
Wandsworth Council leader Simon Hogg has been campaigning for the centre to be located at St George's since the proposals were revealed. A letter from Councillor Hogg and Tooting MP Dr Rosena Allin-Khan to Health Secretary Steve Barclay in May raised concerns about the option that would see services moved from St George's. It said the move could have a significant impact on other services at the hospital, and that families of children with cancer could struggle to travel by car to reach the Evelina.
In a new letter, published on 22 September, Councillor Hogg and Dr Allin-Khan said they had since heard from more local parents worried about the proposals. They added parents had reported not feeling "sufficiently listened to" in the process so far. Councillor Hogg has urged residents to respond to the consultation and write to Mr Barclay to share their views on the issue.
Dr Streather said the proposals are designed to create a centre with the experience and expertise of the existing service, but on the same site as a children's intensive care unit and other specialist services.
He said: "This is essential for the services to continue to provide the very best care for children with cancer – care that meets the latest national clinical standards. No decision will be made until the public consultation has concluded. We have already heard from a wide range of patients, families and other groups which has informed our proposals and we are now encouraging as many people as possible to give us their feedback during the consultation before it closes on December 18."
St George's said it plans to build a new centre housing "fantastic medical facilities, state-of-the-art research facilities and recreational, educational and therapeutic spaces", along with family accommodation, if successful in the consultation. It said families would be able to drive to the centre and park in dedicated spaces, which would eliminate the "risk of infection to vulnerable kids from public transport".
Professor Nicholas van As, medical director for The Royal Marsden NHS Foundation Trust, said: "We will support any initiative which is in the best interest of children and families. The current service at The Royal Marsden is assessed as high-quality and safe, and a third of children treated in the hospital are able to access clinical trials through our world leading Oak Paediatric and Adolescent Oncology Drug Development Unit.
"It's important that the benefits currently available to children at The Royal Marsden are retained in the future, alongside the new requirement for co-location with a paediatric intensive care unit (PICU) and other specialist children's services."
A spokesperson for Evelina London Children's Hospital said: "We welcome the launch of this consultation and believe we are uniquely placed to provide the best care, research and support to children and young people with cancer, and their families. Locating the new principal treatment centre at Evelina London Children's Hospital is a once in a generation opportunity to bring together the leading children's cancer experts with our existing world-class specialist paediatric team to create the comprehensive children's hospital our region needs and deserves."
The NHS will make a decision after the consultation has finished and it has reviewed feedback. Services are not expected to move before 2026.
Both options in the consultation propose that children's conventional radiotherapy move from The Royal Marsden to University College Hospital in Camden. Cancer care for patients aged 16 and over will continue to be delivered at The Royal Marsden.
For more details about public consultation and to give your views click here.