No charge on journeys under half an hour if offer code is entered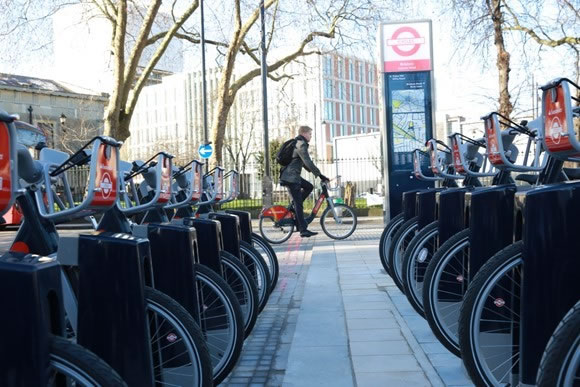 Transport for London (TfL) are offering everyone free travel on Santander rental bikes over the Christmas period.
Riders can claim a day of free journeys up to 30 minutes on any day in December.
It comes as the transport network announced 105 new docking points for their rental bikes outside major stations in central London.
There will be new bike stands at Paddington, Blackfriars, Victoria, and Queensway Underground station near Hyde Park by the end of the year.
The stand on Tooley Street, near London Bridge station, will also be expanded.
TfL says the new docking points will make it easier for commuters and visitors to build cycling into their travel.
Last year was a record breaking year for the scheme, with more than 10.5 million bike trips – including 35,000 journeys on Christmas Day alone.
The transport network says customers cycled the equivalent of 65 return trips to the moon over the course of the year.
And a spokesperson for TfL said they "expect that demand will continue to grow".
Earlier this year, TfL rolled out new bike rental stations at Victoria Park in Hackney and on Westminster Pier.
And there are plans for new stands along Cycleway 4 in Bermondsey and Rotherhithe, which is currently under construction.
Next year will be the ten year anniversary of the scheme, and five years of Santander sponsorship.
London's Walking and Cycling Commissioner Will Norman welcomed the expansion of the bikes.
He said: "Last year saw a record number of cycling journeys across London, and our Santander Cycles continue to be a huge success.
"Having more docking stations around key transport hubs will make it easier for people to cycle as part of their everyday routine, whether commuters heading to and from the office, or visitors travelling around our city."
You can claim a day of free 30 minute journeys with the code "SCXMAS19". All journeys must be under half an hour, or you will be charged – but you can ride as many times as you like during your 24 hour free period.
Jessie Matthewson - Local Democracy Reporter

December 4, 2019