Process reportedly to be streamlined to tackle shortage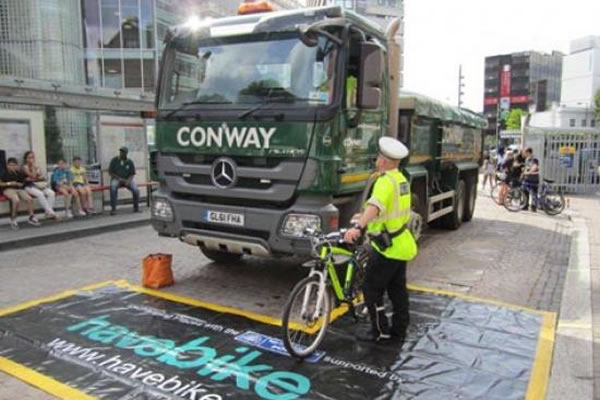 A HGV blind sport demonstration. Picture: LBHF
Cycling campaigners have slammed Government proposals to shorten the testing procedure for HGV drivers, warning that the decision will "come at a cost" to cyclists in London.
Reports have suggested that the Government is planning on "streamlining" the process of testing new lorry drivers to address staff shortages in the logistics industry.
A combination of factors including the Covid-19 pandemic, Brexit and an ageing workforce has seen the number of HGV drivers plummet, leading to shortages of goods on supermarket shelves.
The proposed changes to the testing procedure would mean that prospective new HGV drivers could obtain their articulated lorry licence without first having to pass a test in a smaller, rigid lorry.
But the London Cycling Campaign has claimed that "lives are on the line" if the Government goes ahead with the plans.
Responding to the reports via social media, the London Cycling Campaign said, "It's deeply alarming to hear that heavy vehicle safety requirements could become less stringent. A slackening in safety standards will clearly come at a cost to the health and safety of people cycling in London who've no choice but to share space with HGVs
"The safety of cyclists is already in enough danger from heavy vehicle drivers on roads, specifically junctions, that don't protect people cycling from these multi-ton lorries. Lives are on the line in this decision."
A spokesperson for the campaign added, "The official target in London is to reduce fatal and serious collisions to zero by 2041. Weakening the training and testing procedures for drivers will not achieve this."
Just last month, Dr Marta Krawiec was killed following a collision with a lorry while cycling to work, becoming the seventh cyclist to be killed on London's roads this year.
Mayor of London Sadiq Khan has committed to a "Vision Zero" target of eliminating all deaths and serious injuries from London's roads by 2041.
A spokesperson for Mr Khan said of the Government's proposals, "The Government needs to urgently address the freight driver shortage issue, but they must not put the safety of other road users at risk. We fully support adding HGV drivers to the shortage occupation list, but fast-tracking driver training could compromise safety standards."
Transport Secretary Grant Shapps was asked in Parliament on Thursday about whether there were plans to add HGV drivers to the shortage occupation list, which allows skilled worker visas to be granted to migrants to fill positions in occupations where there are labour shortages.
Mr Shapps said, "We do have to stand on our own two feet as the United Kingdom. There are a lot of people coming off furlough and I look forward to those people getting jobs."
He later added, "We've been working hard to free-up space at DVSA, the testing authority. We're now testing 50 per cent more drivers than we did before the pandemic."
The process of streamlining HGV driver testing is expected to allow up to 3,000 new lorry drivers to be tested every week.

Joe Talora - Local Democracy Reporter

September 10, 2021