Anne Flaherty enjoyed the Wimbledon Theatre production

Dirty Dancing was the coming-of -age story that brought fame to the late Patrick Swayze and despite being a low-budget film intended to be shown for one weekend only, it has been an enormous international success both on screen and on stage.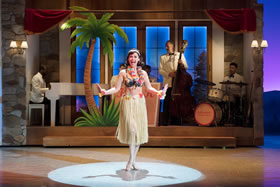 Lizzie Ottley as Liza Houseman does the hula hula song
This production at the Wimbledon Theatre explodes energy and sensational dancing- its 'Strictly' on speed, and the audience enjoyed every minute.
It's the summer of 1963, and 17 year-old Frances 'Baby' Houseman learns some major lessons in life, as well as a thing or two about dancing. The plot tells the story of Baby and Johnny, two fiercely independent souls from vastly different backgrounds, who fall in love while she is on holidays at a Catskills camp where he is employed as a dance instructor. But the plot is really incidental because the night is all about the moves and the songs. Remember Hungry Eyes, Hey Baby, Do You Love Me? and the old favourite (I've Had) The Time Of My Life.
The audience were in lively form and every time Lewis Griffiths (Johnny Castle) removed his shirt to show his toned physique, there were loud cheers! He played a mean Johnny, raunchy, tough, but with a sensitive side, to Katie Hartland', making an excellent musical theatre debut as 'Baby'. Her comedic potential was evident in her initial 'clumsiness' while being taught to dance and she gave a confident performance. Carlie Milner, as 'Penny Johnson, showed what a brilliant dancer she is.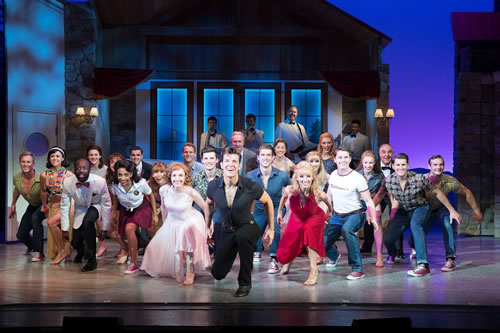 The 'feelgood' atmosphere was supported by the rest of the energetic cast, Julian Harries as 'Jake Houseman', Simone Craddock as 'Marjorie Houseman', Roger Martin 'as Max Kellerman', Jo Servi as 'Tito Suarez', Lizzie Ottley as 'Lisa Houseman', Michael Kent as 'Billy Kostecki', Greg Fossard as 'Neil Kellerman', Tony Stansfield as 'Mr Schumacher'.
The show has been reconceived in an all-new production directed by Federico Bellone, and choreographed by Gillian Bruce. Roberto Comotti's ingeniously moving set, gave the stage the maximum dance room.
The production is playing at the New Theatre, Wimbledon until 1 October.
For a feelgood night out it's one not to be missed!

September 28, 2016