Members called to special meeting to discuss the future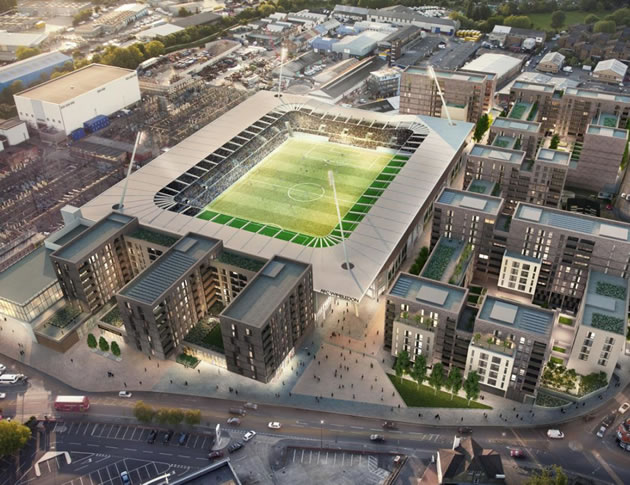 AFC Wimbledon need an extra £11m to complete the ground they have planned to build in Plough Lane, the club has revealed.
Members of the fan-owned club are being asked to attend a special meeting to discuss the way forward on Monday (December 9).
The club has issued a statement saying it needs to raise an extra £11m by the end of January in order to build the ground it has planned - including income-generating conference and banqueting facilities.
It has put forward three options for members to discuss:
"1. Do we try to borrow all of the money that we need – either on a short or long-term basis? If we take this route, we almost certainly face very high repayments which will leave us with a playing budget barely capable of surviving in League Two. There are some sustainable loan options, but we are not guaranteed to get one, nor may we be able to borrow that much money anyway;

"2. Do we simply build what we can afford - the main West Stand and abandon the other three for now? Even if we did this, the main stand would be a basic shell, without any of the new revenue streams such as conference and banqueting, club shop or hospitality facilities that we badly need to bolster our playing budget. We could add these facilities in the future – if we can get the money and if the level of football we are competing in at the time will sustain them;

"3. Do we accept offers of investment from some private investors, who we got to know during our crowdfunding campaign? This would give us the majority of the money we need to build the stadium we all want – and leave us with a realistic playing budget to compete in League One on top. While these investors universally agree the Dons Trust must retain 100 per cent control over our 'crown jewels' – i.e. any future decisions to relocate or rename our club and most importantly that the Dons Trust would have veto over any sale of the land, ground or Stadium – they would also expect a substantial say in how our business is run. Ultimately, that would entail the Dons Trust owning a smaller stake in the club and having a more independent board with both investor and Dons Trust representation."
There will be controversy about Option 3, as AFC Wimbledon has been a trailblazer for the principle of 100% fan ownership.
One group of fans, including founding chairman Kris Stewart, has set out a list of 50 questions they would like answered by Monday's meeting. The letter says members need to be better informed so they can contribute to the debate.
The members' meeting takes place at Kingsmeadow Stadium at 7.30pm on Monday.
What do you think? Why not comment on our forum?

December 5, 2019