Craig Revel Horwood shines in this heart-warming musical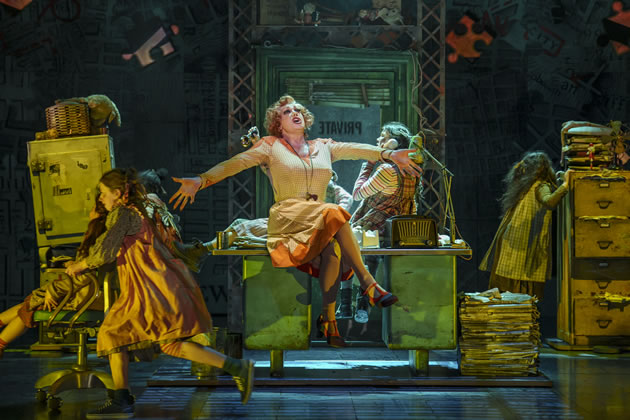 What's not to like about a show that has everything? You'll find dancing, singing, children, animals, a heart-warming story and a touch of TV stardust in Annie at New Wimbledon Theatre until Saturday (November 11).

Craig Revel Horwood is the big name in this touring production (but check the schedule for when he's in the TV studios instead), and he doesn't disappoint as Miss Hannigan, who runs the New York orphanage which has been Annie's home for 11 years.

The Strictly Come Dancing judge proved himself to be an excellent all-round performer. We knew he could dance, but he was an accomplished singer and a good enough actor to convince us that Annie had to escape from her clutches.

Along comes the local billionaire Mr Warbucks, played with panache by Alex Bourne, and Annie is soon spirited away to live a life of luxury in his home for Christmas. Before that Mr Warbucks and Annie meet on the streets of New York – not to mention Sandy the dog, charmingly played by labradoodle Amber.

It all leads to a happy ending, but on the way we meet a evil couple - Rooster and Lily (Paul French and Billie Kay) - who try to convince Mr Warbucks that they are Annie's real parents. They put on a convincing performance, getting us set for the pantomime villain soon to be treading the boards in Wimbledon.

Many of the songs from the 1977 Broadway hit are familiar to us all, and the girls' voices certainly seemed quite high-pitched to those of us sitting near the front. There were also quite a few screechy whistles in the show to keep our attention.

But it was the dancing that was the most memorable part of the production to me. The section where Annie gets taken to the cinema and we see a group of sailors dancing as if they were in the film, was just terrific.

The run-up to Christmas is just the perfect time to see Annie, and there's no doubt this is a show that appeals to all ages and will warm your heart in winter.
By Sue Choularton
November 10, 2023