Gary Barlow's star-studded musical comes to SW19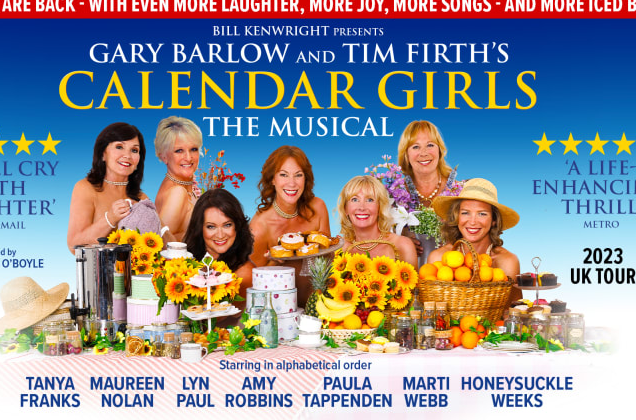 On a dank November night, what could be better than a heart-warming night at the theatre and Calendar Girls is just to show to brighten up these dark days.
Based loosely on the 2003 hit movie, this musical is written by Gary Barlow and Tim Firth. If turning the clock back to 2003 wasn't enough of a nostalgia fest, the leading performers include Maureen Nolan, Marti Webb and Lyn Paul.
Setting the movie script to one side, this production features music from Gary Barlow – some of which is rather forgettable. But it was impossible to ignore their 'Yorkshire' song, which was repeated throughout and reminded the audience where the musical was set.
Like the film, Calendar Girls tells the story of how a group of women in a Yorkshire Women's Institute are prompted to create a nude calendar to raise money for charity.
Designer Gary McCann has put together a very clever set, with perfect perspective to make you feel like you are walking into a typical community hall. It doubles up as an uncomfortable hospital waiting room, where the idea to raise funds to replace an uncomfortable sofa in the visitors' room is dreamed up.
The show remains firmly set in these Yorkshire roots – but unlike the film, there is no trip to Los Angeles for a TV interview with Jay Leno. To emphasise the northern base, what better than to put together a cast featuring five Mrs Johnstone's from Bill Kenwright's production of Willy Russell's hit Blood Brothers?
I can promise that this show will make you smile, with several touches of humour. Tanya Franks (Rainie in EastEnders) also gives an emotional performance as Annie, especially the touching 'Scarborough' song as she looks ahead to life without husband John (Colin R Campbell).
Amy Robbins (TV credits include Coronation Street) is a larger than life Chris – a former Miss Yorkshire finalist. Her character provides some of the show's most memorable moments.
All in all, it was a warm and nostalgic evening with a chance to see some much-loved stars. Calendar Girls runs at New Wimbledon Theatre until Saturday (November 4).
By Sue Choularton
November 3, 2023