Campaigners fight for months for vital repairs to Georgian building
Work starts on Dorset Hall
Work has finally begun on historic Dorset Hall in South Wimbledon after months of negotiation over the repairs needed to the Grade II-listed Georgian building in Kingston Road.
It was the former home of Rose Lamartine Yates, one of the early pioneers of the Suffragette Movement, who moved there with her husband Tom in 1909.
But the building, owned by housing association Clarion Housing, has been empty and decaying for at least four years after the failure of a project to turn it into flats.
Women's rights campaigner Barbara Gorna, who first spotted Dorset Hall on her regular commute, is hoping to save the building and see it turned into a community space and "living monument" to Wimbledon's place in the suffragette movement.
After campaigning by the Dorset Hall Group (DHG) and cross-party pressure from local politicians to start work to weather-proof the building, scaffolding was erected in March.
However progress was slow and earlier this month, Barbara said: "Clarion has finally accepted that they must make Dorset Hall watertight, and work had been agreed between Merton Council and English Heritage. It has been frustratingly slow.
"On their watch the building has substantially deteriorated with water pouring in all year. We would like them to take responsibility for repairing the inside of the building at least to a sensible standard."
But at the end of last week, and following months of negotiations between Clarion, Merton and English Heritage, work finally started.
Barbara said yesterday (September 12): "DHG after almost a year of negotiations have finally pushed Clarion to begin work on Dorset Hall. Part of the roof is in a parlous state and agreement for the works required significant input from Historic England and Merton.
"The future of the building is being discussed this week with Clarion and DHG to find a future use for the building and the site which takes into account its important heritage as a suffragette refuge."
Barbara details on her suffrage blog how Rose became secretary of the Wimbledon Branch of the Women's Social and Political Union (WSPU) in the same year she moved to Dorset Hall, and made Wimbledon Common her platform for speeches on the need for the vote to improve women's lives.
The 'Votes for Women' slogan was etched with acid into Wimbledon Common golf course, and there was an attempt to burn down the All England Pavilion under her watch.
Dorset Hall became a hub of the women' suffrage movement and a place of refuge for many leading suffragettes. Emily Wilding Davidson, who was trampled under the King's horse at Epsom in 1913, was a frequent visitor and a friend of Rose Yates.
She is thought to have died trying to throw a Votes for Women sash on or around the King's horse as it galloped past but was seriously injured as the horse tried to jump and trampled her. She eventually succumbed to her injuries.

Rose became ill after Emily's death and went abroad to recover. On her return, the Great War of 1914 broke out and Rose fell out with the Pankhursts who tasked the WSPU with supporting the war rather than continuing the women's suffrage campaign.
She set up a new organisation called Suffragettes of the WSPU and continued to lobby for the vote. She was also instrumental in creating the Suffragette Fellowship ensuring a legacy for suffragette history.

After the war, she won a seat on London County Council and continued to fight for women and the poor all her life. She pledged her garden at Dorset Hall in perpetuity to the people of Merton.
Clarion Group has been approached for a comment.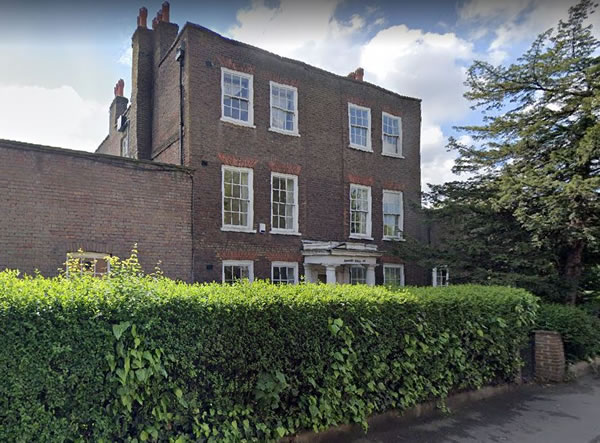 Dorset Hall from Google Street View
In the hammock in the Dorset Hall garden is hunger striker Mrs Wilkinson and on the right is hunger striker Florence McFarlane. Standing behind Florence McFarlane is Rose, while on the far right is her husband Tom, while their son Paul is kneeling at the front.
September 13, 2021