Operator tracked group of youths through centre of Wimbledon
A council CCTV operator helped track down a group of teenagers with an allegedly stolen scooter after being alerted by local police as part of a partnership working scheme.
A radio system shared by the council, businesses in Wimbledon town centre and Merton Police alerted the council CCTV operator to suspicious activity in Costa Coffee in Wimbledon Broadway on Thursday 22 September at about 3pm.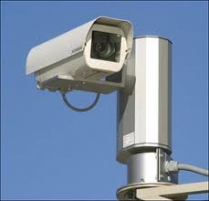 A group of teenagers aged between 14 and 16 years-old were said to be asking for donations for a boxing club. They had a scooter with them.
By using the Townlink radio system, officers asked the council to look on town centre CCTV cameras. At the same time, the Odeon cinema was calling in a report of a stolen scooter on the same system.
The CCTV operator scoured the town centre and located the group at the junction of The Broadway and Queens Road, Wimbledon, and told officers, who then spoke to them.
The scooter was returned to its owner and the group was spoken to. No arrests were made.
Councillor Edith Macauley, cabinet member for Community Safety, Engagement and Equalities, said: "This is an impressive example of a number of organisations working closely together to keep our community safe.
"This is one of almost daily examples of our excellent CCTV operators working tirelessly with partner agencies to assist wherever possible."
Anthony Steward, Sergeant for Wimbledon Safer Neighbourhoods, said: "Merton Police work with many different agencies in their tireless efforts to reduce crime and are happy to be part of a group ranging from Love Wimbledon to Centre Court Security, who help us achieve this aim. We thank Merton Council's CCTV department for their continued excellence."
September 29, 2016