Four still on the run after 'violent and terrifying' armed robbery on Church Road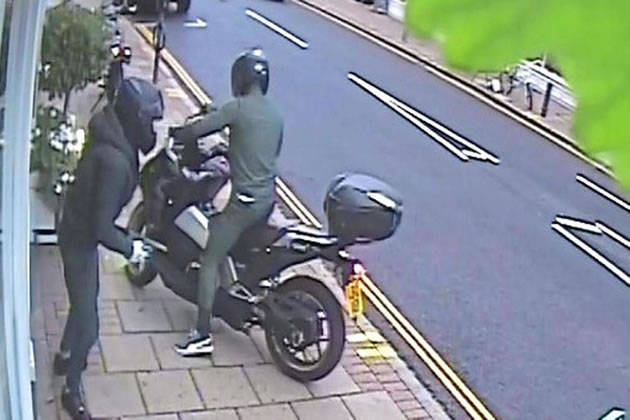 Two suspects captured on CCTV in Wimbledon Village
Police are still hunting for four males who closed off a Wimbledon street to enable the armed robbery of a jewellers.
Detectives investigating a ram raid on Michael Platt jewellers on 12 September are renewing their appeals for information and witnesses.
At around 12.45pm the four males travelling on two motorbikes approached the premises on Church Road.
Whilst one vehicle parked outside the shop, the other motorbike drove into the front door to force entry forcing staff to take refuge in a store room.
Two males entered the property carrying hammers and pickaxes before smashing the cabinets and stealing a quantity of jewellery from inside.
Meanwhile, the two other members of the gang remained outside keeping a look out. They set up a roadblock on Church Road by moving a 'Road Closed' sign from nearby roadworks They held up large knives and bottles in an attempt to make the shop workers believe they were armed with acid. People in the street ran to local cafes and shops for safety.
The gang then made off on the motorbikes towards Wimbledon Park. Both motorbikes were found abandoned a short while later on Wimbledon Common and were recovered by officers.
The four suspects are all believed to be males. At the time of the incident they were wearing dark tracksuits and gloves with motorbike helmets.
The shop is owned by Wayne and Elayne Myers who said that the thieves had threatened to throw acid in the face of a woman who was videoing the robbery on her phone.
The shop reopened less than 24 hours after the incident. Wayne told WimbledonSW19.com on, "We will not cower against these brazen people who need to be stopped. We are a small independent business and they are one-off items but we will not be beaten."
DC Rex Jude from the South West Command Unit said: "This was a violent and terrifying ordeal during broad daylight.
"Thankfully no one was injured but a quantity of high value jewellery, worth in excess of £80,000 was stolen.
"I would urge anyone with information or who witnessed the incident to get in touch."
Anyone with information is asked to call the South West Command Unit on 101 quoting CAD 3225/12Sep or to remain anonymous, call Crimestoppers on 0800 555 111 or contact them via crimestoppers-uk.org.

August 21, 2018