Production will get its world premiere in Wimbledon
A one-person show adapted from a Leo Tolstoy novella - The Death of Ivan Ilyich – will be premiered at Merton Arts Space in Wimbledon Library next month.
Written in the 1870's The Death of Ivan Ilyich tells the story of a high-court judge, his sufferings and death from a terminal illness in 19th-century Russia.
The story of Ivan's unanticipated demise is also the story of Ivan's recognition of death and his search for the meaning of his life. How do we all make sense of our lives, our relationships, projects and dreams, of our very existence when faced with the end?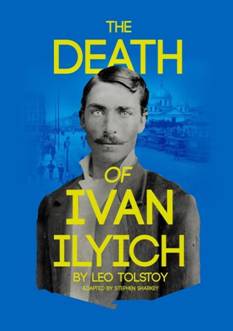 The Attic Theatre Company production, adapted from Tolstoy by Stephen Sharkey, explores Ivan's profound realisations on the significance of existence through a solo performance, which will at times engage directly with the audience.
This will be the first Attic production directed by new Artistic Director Jonathan Humphreys. He said: "This play is about life, death and what comes after. It's an incredible, universal story about what we value and what we live for. This personal story gives us an opportunity to create a really intimate show that puts the actor's relationship with the audience at its heart.
"I am really excited to be working with writer Stephen Sharkey because he is a phenomenal adapter and brings a wealth of experience and massive heart to the project. We are creating this play to engage audiences to reflect on what, in our crowded and busy world, is worth holding on to."
It's produced in association with Wimbledon Bookfest, and it runs from October 6-29.
September 1, 2017