Join a rollercoaster ride as terrific trio take a bumpy path to fame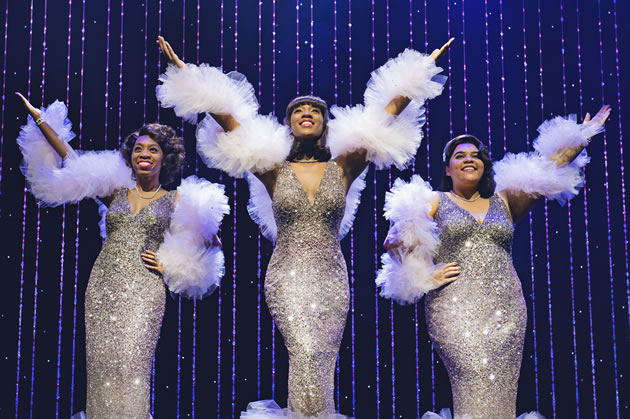 Girlpower rules as Dreamgirls visits New Wimbledon Theatre
Dreamgirls certainly packs a punch for theatregoers seeking a lively evening and a break from their own daily strife.
But this is more than just a glitzy musical loosely based on the story of the Supremes, for it's packed with themes to give you something to ponder on as you bop home.
Dreamgirls follows the transformation of the Dreamettes from talent show entrants to chart-toppers performing in Las Vegas.
Tom Eyen's script is packed with music by Henry Krieger, as 27 songs tell the story of a group of girls who face challenges including racism and misogyny in a 1960s' America where talent alone didn't take you to the top.
So there's a serious side to this show, but don't let that put you off as the songs, glittering costumes and sumptuous scenery will leave you with that 'feel-good' factor as the last number is belted out.
There's no doubting that the voices - especially that of Effie White, played by TV's The Voice finalist Nicole Raquel Dennis - are very powerful. There's no having a secret snooze while the near non-stop music rings out loud and clear!
Effie is the focus of the tale, and battles against a series of hurdles as she's shifted from lead singer to a supporting role. She reacts with a number of amazing ballads, demonstrating the range and strength of the voice of Nicole Raquel Dennis.
There's also a touch of humour, with Brandon Lee Sears playing cheeky singer Jimmy Early. While Dom Hartley-Harris is a brooding Curtis Taylor Jr, the manager of the group.
There was a standing ovation as girlpower helps reconcile the Dreamgirls as friends and they perform together at the end. I was only sorry there wasn't one more encore to give the audience chance to dance together in the aisles, but as the cast had put their all in the performance I can quite understand they were absolutely drained!
By Sue Choularton
May 16, 2022