New Wimbledon Theatre is the venue for stage version of '80s movie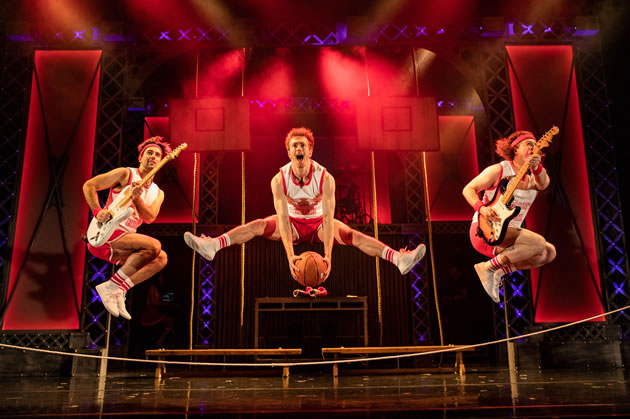 Joshua Hawkins at centre stage in Wimbledon for Footloose
Dust off your padded shoulder jackets, sweatbands and roller skates as the stage version of hit 1980s movie Footloose stops off in Wimbledon.
The Footloose musical follows the antics of city boy Ren (played by Joshua Hawkins) after he moves to smalltown Bomont. He soon finds himself bored of his new surroundings and sets about livening up a community which has banned dancing and partying.
There's not too much to the story, based on the film starring Kevin Bacon, and parts of this adaptation seem a little disjointed. But the lead characters give strong performances and will get you on your feet to join them in the final dance.
Hawkins is an energetic Ren, but the real star of the show is JLS's Aston Merrygold. As Willard Hewitt, he pals up with Ren as soon as the newcomer arrives at Bomont High School.
Willard is gradually bought out of his shell with the help of his new friend, and one of the highlights of the evening is when he takes off his trademark dungarees to reveal a stunning disco outfit! This is when the night starts to warm up, with the hit songs coming to the fore.
Anyone who can remember the carefree days of school discos will soon be tapping their feet to numbers such as Footloose, Holding Out For A Hero and Let's Hear It For The Boy. The cast prove to be great musicians, dancers and gymnasts.
The show's other big name - Darren Day - gives a confident performance as Reverend Shaw Moore. He's responsible for policing the town's straitlaced rules, despite daughter Ariel (Lucy Moore) doing her charming best to defy him.
Ariel falls for the new boy in town and there's a 'good overcoming evil' line as nasty boyfriend Chuck Cranston (Tom Mussell) is soon shunned for twinkly-eyed Ren.
But Ren wants more than a new love in his life. He wants to live in a town where people can have fun. He persuades Ariel's father that dancing shouldn't be sinful, and before we know it we are all joining in the dance party at the end.
This show really warms up in the second half and I was particularly impressed by the versitility of the cast - with many of them playing a range of instruments, as well as singing, acting and dancing. There's a touch of humour too, and a flashy set that will take you back in time.
I felt quite worn out watching the actors put on a truly high-octane second act, so all credit to them for giving such energetic performances despite the balmy temperatures outside.
Listings information:
Mon 15 August - Sat 20 August
93 The Broadway, Wimbledon, London SW19 1QG
Tue - Sat at 19:30
Thu and Sat at 14:30
By Sue Choularton
August 19, 2022