In conversation with actor Samuel West
Wimbledon BookFest and Merton Welcomes Refugees, a voluntary group offering friendship and practical support to newly arrived refugees, have announced that actor Samuel West will be in conversation with Gulwali Passarlay on Monday April 25 at Wimbledon Odeon.
Gulwali Passarlay left Afghanistan aged twelve. Smuggled into Iran, Gulwali began a year-long odyssey across Europe, spending time in prisons, suffering hunger, cruelty, brutality and nearly drowning in a tiny boat on the Mediterranean before arriving in the UK. Here he was fostered, won a place at a top university, and was chosen to carry the Olympic torch in 2012.
Gulwali is currently reading Politics and International Relations at the University of Manchester. He is an ambassador and advisor for many prestigious political, aid and youth groups and is fast becoming a key spokesperson for refugees in Britain, appearing on BBC and Channel 4 News and giving a TEDx Talk. He is the author of The Lightless Sky.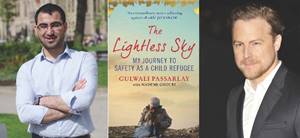 Samuel West says: "I'm delighted to be talking to Gulwali Passarlay, whose courage and persistence are so inspiring. To come together, to embrace the far and the other and make them the near and the known – this, to me, is the essence of conversation. I grew up in South-West London, and this collaboration between Wimbledon BookFest and Merton Welcomes Refugees makes me very proud of our part of town."
Fiona Razvi, Director of the Wimbledon BookFest says: 'We are really pleased to be working with community organisation Merton Welcomes Refugees to bring Gulwali Passarlay's amazing and inspirational story of arriving in the UK as 12-year-old boy. His memoir The Lightless Sky has moved so many and gives a deeper understanding of the plight of the individual in the ongoing refugee crisis. It is through hearing and reading stories that we understand our world and we are really looking forward to hosting this event with Gulwali and the actor Samuel West.'
'It is easy to feel so overwhelmed by the scale of the refugee crisis. Gulwali's story reminds us that behind the statistics are human beings. Everyone should come to listen to his powerful story,' says Jackie Schneider, founder of Merton Welcomes Refugees.
The event will take place on Monday April 25 at 7pm at the Odeon Cinema, 39 The Broadway, London SW19 1QB. Audience questions welcome. There will be a book signing after the talk.
Tickets available from https://www.eventbrite.co.uk/e/samuel-west-talks-to-gulwali-passarlay-tickets-22465590185.

March 7, 2016