Hit musical based on cult film ends its nationwide tour in SW19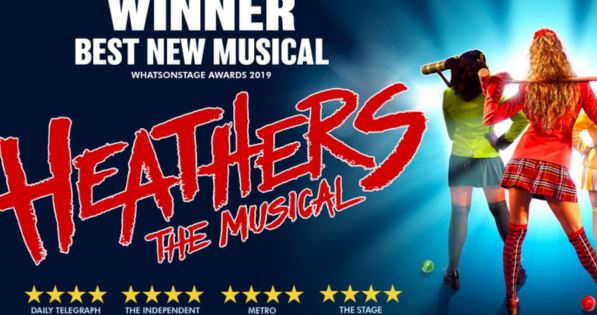 The week leading up to Halloween seemed to be a timely opportunity to see Heathers The Musical playing at its final venue after two hit West End seasons and a nationwide tour.
The spooky side of the show, which runs at New Wimbleton Theatre until Saturday (October 28) was provided by teen goth JD (Jacob Fowler), who swoops into Westerberg High School with an air of mystery around him.
Based on the 1989 cult film, starrning Winona Ryder and Christian Slater, this black comedy reveals how loner JD teaches Veronica Sawyer (Jenna Innes) that while it might kill to be a nobody, it is literally murder being a somebody.
Before his arrival, Veronica has already wormed her way into the High School's cruel girl gang all named the 'Heathers'. Her personality is soon transformed and she starts wearing their matching outfits - complete with full-length tartan socks!
But she falls in love with new arrival JD, who gets her to join him on his murderous course. Their victims include school jocks Ram and Kurt, played acrobatically by double act Alex Woodward and Morgan Jackson.
Their deaths lead to one of the funniest songs in the show - "My Dead Gay Son" - which is performed with gusto at their funeral. There are 18 other songs in the show, with Innes proving to be a talented singer. Verity Thompson as the leading Heather also had a powerful voice and put on a memorable performance as Heather Chandler.
The production's catchier numbers were reprised, with a deserved standing ovation taking place to the tune of 'Seventeen'.
The news of the sad death of the show's producer Bill Kenwright had come out a few hours before press night and just before the final curtain call Innes gave a touching tribute to the influential impressario. "Without Bill Kenwright, there would have been no Heathers", she said.
By Sue Choularton
October 27, 2023