Review: 'Homing Birds' at the Earlsfield theatre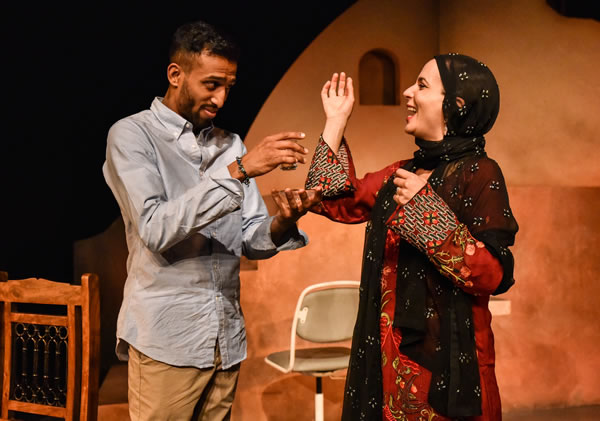 Homing Birds is a very apt analogy for a situation in which Saeed, an Afghan refugee who has trained to be a doctor and is now living with his widowed English adoptive father, yearns to return to his homeland in order to rediscover the place where his soul can settle, and in order also to search for a lost sister of whom he has vivid childhood memories.
Kali Theatre's production is directed by Helena Bell and written by Rukhsana Ahmad. Jay Varsani plays Saeed, with John O'Mahoney playing Michael, Mona Khalili playing Nazneen, his sister, and Suzanne Ahmet playing the politician who helps him on his journey.
This play is 90 mins long with no interval and focuses on multiple themes, both cultural and emotional which are brought about by the terrible ravages of war. There were a lot of ideas to pack in to this time frame, and we are taken on travels through time from a war torn Kabul to a modern post-war Kabul and from a comfortable English family life to a culturally completely different reality. Issues as diverse as personal loss to cultural injustices leave the audience much to ponder on.
The production is cleverly created by showing Khalili and Varsani playing the characters of Saeed and Nazneed as children in order to echo Saeed's memories which have clung to his consciousness all through his life. An adult playing a child is never an easy role to pull off, but in this case it worked well to set the scene. The character of Michael, Saeed's father, a sort of English middle-class stereotype devoid of much personality and compassion showed how two people can be so different. He obviously had nothing in common with his adoptive son. How realistic this would be is questionable, but it does help to explain Saeed's anger and lack of emotional balance as a young man. The character of Raabia fights for women's rights and will help Saaed in his quest for identity. His sister's noble oratory made me sit on the edge of my seat. The use of Saeed's costume changes was a clever way of seeming to say everything about his quest for identity.
Because of the issues which needed to be dealt with in a short time frame, I felt at times that the play lacked the space for adequate show of emotion to be played out; perhaps emotions more raw and lingering……However the mesh of disruption caused by being uprooted from loved ones and having to adjust to alien values is a topic well worthy of more exploration in order to make us all take time to ponder on the plight of those around us.
By Carol Whittaker
LISTINGS DETAILS:
Venue: Tara Theatre, 356 Garratt Lane, Earlsfield, London, SW18 4ES
Dates + times: 26 November – 7 December at 7.30pm; 7 December at 3pm
Tickets: £17.50 / £13.50
Box office: 020 8333 4457 / tara-arts.com
November 29, 2019