No warning of closure with nearest alternative in Wimbledon town centre
The popular Kingston Road Post Office in Wimbledon has suddenly closed down.
The shop, which is opposite Wimbledon Fire Station, has not opened this week and its shutters have remained closed.
The cash machine outside the post office has also been closed down.
It is understood the man who managed it for many years retired relatively recently, with someone else running it over Christmas and into the New Year.
But several handwritten signs (below) on the shutter doors say it is closed permanently, with the nearest Post Office now being at The Junction Box at 89 The Broadway in Wimbledon town centre.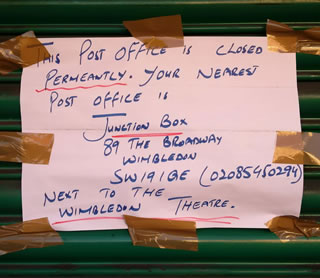 It was threatened with closure many years ago, but was spared after a campaign to save it.
The Royal Mail has been approached for a comment.
What do you think? Why not comment on our forum?

January 19, 2018