Review by Carol Whittaker: Wimbledon BookFest
I had just finished reading 'All Hell Let Loose' relating to WWII when I was given the opportunity to attend Max Hastings' talk on his new book 'Vietnam – An Epic Tragedy 1945–1975' which I was eager to attend. 'All Hell Let Loose' was a compulsive, but gruelling read and its educational impact was invaluable to my understanding of World War II. The book gave me much cause for contemplation and thanks that I'm fortunate enough not to have lived through such a conflict. I'm sure Hastings' book on Vietnam will have the same effect on me.
The queue was very long in the Baillie Gifford Big Tent at the Wimbledon Bookfest yesterday (October 7) as we waited to be admitted to our seats and the event was a sell-out performance. It was a fascinating way to spend an autumn afternoon. I couldn't help but notice that the majority of the audience were over 60. This was bound to be the case given that we all remember the years of coverage on our news bulletins at the time; but I do hope that going forwards such world conflicts will not be lost on the younger generations too.
Hastings introduced his talk with a clip of himself as a young man in a dugout surrounded by gunfire reporting for the BBC in 1970 during the advance of the Cambodian army against the Viet Cong. At the tender age of 22 he attended a press conference given by Lyndon Johnson; obviously a high-flyer from the beginning. Since that time he has reported from numerous war zones and has 26 books to his credit. Having only read one to date I am more than impressed by the amount of research which must have gone in to compiling each tome which magnificently illustrate the complexities of war.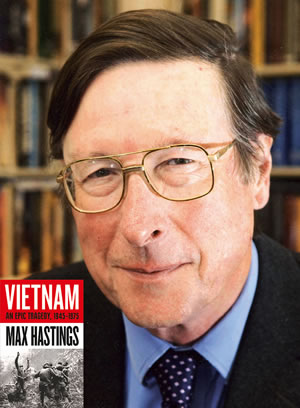 Hastings told us that his book focuses on the story of the Vietnamese people as he feels their voice has not been heard given that literature to date has tended to be either French or American biased. It's interesting to note that at meetings held between 1945 and 1975 to discuss the war and its outcome no Vietnamese were represented.
Hastings spoke for 40 minutes with a fluency and eloquence which bore testament to his wealth of experience in journalism and theatres of war and I found his account gripping from start to finish. The book covers the period 1945 to 1973. Hastings provided the chronology of the war in which active US involvement didn't begin until 1954 after the battle of Dien Bien Phu in May of that year which ended almost a century of French colonial rule in Indo China and ended in a victory for the communist forces of North Vietnam.
Hastings started by giving harrowing accounts of human experience: the encounter between an American soldier and a young Vietnamese woman expecting to be raped and the death of a young US soldier whose parents received a letter only days after he had written to tell them his life in the army was so far quiet with nothing much happening. Human interest stories abound in Hastings' books which make them so relevant to our understanding of the impact of conflict.
Hastings recounted atrocities that took place on both sides. B52 bombers from the US inflicted what was deemed to be an apocalypse terror on the north Vietnamese who in turn inflicted terror through guerrilla warfare. He emphasised that blame could not be apportioned to either side. Both sides committed equally barbaric acts in the arena they were thrown into. However his book goes on to describe how the Americans viewed their Vietnamese enemy and concludes that - as General MacArthur was quoted to say: "in the absence of any local government, success in a war is meaningless" and that in Vietnam "there was nothing to join up to". This could perhaps be nowhere more illustrated than in Iraq.
Hastings went on to describe the cultural differences prominent on both sides: the north Vietnamese (Viet Cong) knew their jungle, which was one of the most hostile terrains on earth. They were small people and had light footprints and were difficult to detect. The US army were described as 'robots' by the locals, being larger and heavy-footed carrying body armour and wearing large helmets which made them appear like 'robots'. Each side faced its own terrors. However even the Viet Cong experienced the terror of war and built a Buddhist shrine in the jungle for worship.
Hastings recounted various statistics: that in 1968 for instance 300 US soldiers a week were being killed and by the time the US pulled out of the war in 1972 two million Vietnamese had been killed. The war cost the US $150bn in total.
He went on to describe how the loss of the Vietnam War by the US represented a national trauma. After the successes of WWII the people felt sorely injured and the whole experience created suspicion and distrust which had never been seen. The leaders of the US lied to themselves for some time about the good they were doing. However the price paid was that at the end of the war the veteran soldiers were not given respect and were not well treated by the American people – a terrible consequence for somebody fighting in terror for his country (or fighting to fulfil his country's foreign policy).
Hastings went on to describe the lessons learned from the war: that economic forces are just as important as military forces. Although the US lost the war in the end, despite their terrible bombing campaigns and loss of life they eventually won in changing the values of the Vietnamese people by attracting them to consumerism – the Vietnamese now find film stars such as Johnny Depp and applications introduced by technology such as YouTube irresistible.
In terms of modern-day Vietnam, Hastings then went on to describe how Western tourists visiting that country find a nation of immense beauty, but many don't realise that this belies a lack of individual freedom of speech and extreme poverty of the people. In Vietnam society is split in two. Whilst those who fought for the communist side were well looked after after the war, those who fought for South Vietnam have no pensions and very little help from the State.
The floor was opened to questions at the end of this fascinating account of Hastings' experiences and research. Subjects including the effect on the war that mass protests in the US had in bringing the war to a conclusion and the bad treatment of war veterans in the war's aftermath were covered.
I look forward to reading this book. Our understanding of conflicts and thereby our paths forward to avoid them in future can surely only be enhanced by finding the time to think about and draw wisdom from the experiences of others.
Vietnam – An Epic Tragedy 1945 – 1977
Published by William Collins

Wimbledon BookFest runs until October 14. Tickets are on sale at www.wimbledonbookfest.org.
October 8, 2018