He stars in a special comedy night to raise vital funds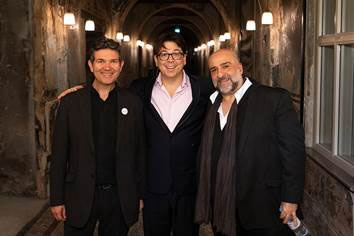 Headline act Michael McIntyre helped raise more than £30,000 towards the redevelopment of Wimbledon's Polka Theatre during a special event at Battersea Arts Centre.

Polka patron, comedian Omid Djalili presented a stellar line-up featuring Michael McIntyre, Dominic Holland, Tez Ilyas, Holly Morgan and Emma Sidi for the fundraising event.
In the Grand Hall at the arts centre, audiences spent the evening hooting with laughter to Omid Djalili's wild stories, hearing Dominic Holland's pride in his 'favourite' Spiderman son and Holly Morgan (and her husband's) married feminist double act with musical impressions from the world's divas.
Polka patron Omid Djalili MC'd the event, bringing on the evening's headliner Michael McIntyre, who said: "It's been brilliant supporting Polka. Good luck with the redevelopment! The audience has been fantastic and I'm glad I could help raise a significant sum for Polka."
Peter Glanville, Polka's Artistic Director reflected: "We have raised over £7m to create a wonderland for children and families in the heart of Wimbledon and Merton.
"We are currently fundraising for the final £400k we need, so events like these are really helping us move forward with our target. Thank you to everyone for coming to the show and our amazing Patron Omid Djalili for making the Big Charity Comedy Night possible."
The funds raised from this special, one-off comedy night were in aid of Polka's redevelopment appeal. New features include the Adventure Theatre for 0-5's, a free to all playground and interactive indoor display by set designer Laura McEwen.

December 17, 2019