Controversial scheme on LESSA site has increased the sports facilities on offer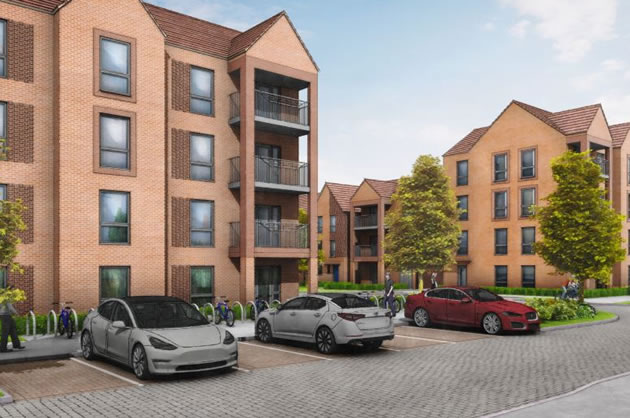 Visualisation of the development planned near Grand Drive. Picture: Bellway
Plans for more than 100 homes on an old sports ground in Raynes Park have been re-submitted after the first scheme was turned down by councillors.
The former LESSA (London Electricity Sports and Social Association) off Grand Drive was a private ground for the use of company employees and has not been used since 2004.
It has been fenced off since 2011 and is not accessible to the public. More than 260 locals objected to the original plans from Bellway Homes, and that scheme was turned down in June.
But now new plans have been submitted for the land, which still includes 107 homes - all flats, and some of them affordable housing.
Merton Councillors voted against the original plans with six votes to four. The reasons cited were that a loss of open space and potential sporting facility outweighed the benefits of the scheme.
Now the new application, which for the site south of Meadowview Road, has increased the range of sports facilities on offer. Bellway says the two all-weather courts to be incorporated into the scheme will be open to the public through a 'pay and play' arrangement.
There will also be a public-use multi use games area (MUGA) pitch which could be used for a range of sports, as well as a 5-a-side football pitch, outdoor gym and equipped children's play area. It includes 82 car parking spaces, although no charging points.
Part of the land makes up a flood plain, and Merton Council officers said of the previous scheme that any development would increase the risk of flooding. Bellway say on their latest application that infrastructure work on the site will include "flood mitigation" work.
More than 260 locals objected to the original plans, with John Elvidge, chairman of the Raynes Park and West Barnes Residents' Association, stating that residents had been "betrayed" by the developer.
He said of the previous scheme: "Bellway has throughout refused to discuss with clubs or schools around any use of the ground for junior sports. Instead they have fenced it off in the hope that in time they can extract more profit by further development."
Bellway's new application includes a "Sports Justification Report" which stated a Section 106 agreement in 2009 offered the land for sports use to either Merton Council or Kings College School, Wimbledon. But neither took up the offer, and the site remained vacant.
The report, produced for Bellway by Nortoft Planning and RTPI town planners, states that despite marketing and consultation exercises from September 2019-December 2021 by Bellway and Merton Council, there were no schemes that could viably deliver community or club sport on the entire site.
A Section 106 agreement being proposed for the new scheme said Bellway will commit to the following:
Provide about £1,100,000 towards increasing the capacity of Joseph Hood Recreation Ground as a playing field, including pitch drainage, improvements to or replacement of the changing rooms, and the provision of a new non-turf artificial cricket wicket in order to create a second cricket pitch on the site.
Funds towards the Old Wimbledonians Rugby Football Club to improve major
pitch drainage issues.
3-year funding towards girls' rugby development.
Upgrading the surface of two of the existing courts at the adjacent Raynes Park Residents' Lawn Tennis Club.
They also claim the combined value of their onsite investment of the tennis courts and two pitches is about £561,000.
Former Merton Councillor David Dean tweeted about the latest scheme: "Disgraceful. Application full of holes again. That ground is protected and the council need to get some balls and brains."
Merton Council is seeking comments on the new application until August 31. You can submit them via the council's Planning Explorer, by searching for reference 22/P2351
August 15, 2022