Harris Academy Wimbledon is granted use of playing field courts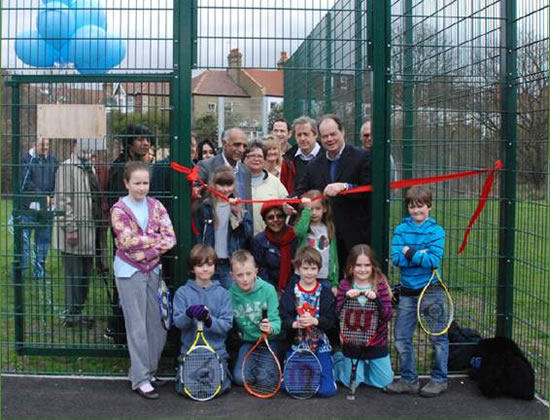 Wimbledon MP Stephen Hammond opens the refurbished courts
Residents are being denied access to community tennis courts in Wimbledon to enable them to be used by pupils from the new Harris Academy, according to a local residents' association.
The courts, next to the Nursery Road Playing Fields, were disused until the Wilmore End Residents' Association (WERA) campaigned for them to be renovated in 2009. They secured a £93,000 grant to fund the work on the three courts.
The facility was opened by Wimbledon MP Stephen Hammond and were intended for free use by the community.
In 2010 a team of volunteers organised by the WERA planted young trees behind the courts. In 2018 hundreds of hours of work was carried out to clear large amounts of rubbish and cut back overgrown vegetation.
But now the WERA says the community is being denied access to the courts with users being "evicted" to free them up for use by pupils from the Harris Academy Wimbledon.
Pupils moved into the school in nearby High Path in September 2020, and there are limited on-site sports facilities.
The WERA tweeted: "WERA raised 100% of the funds for the tennis courts on the basis they were free to use by everyone.
"The Harris Academy has been granted exclusive use at times with other users being evicted. The Council ignore residents' interests with impunity."
Former Merton Councillor Henry Nelless commented: "That's terrible news. Such a shame to hear after all the marvellous work that WERA put into raising those funds all those years ago."
Merton Council has been approached for a comment.
December 5, 2021