Review: The all-male swans are one breathtaking aspect of this show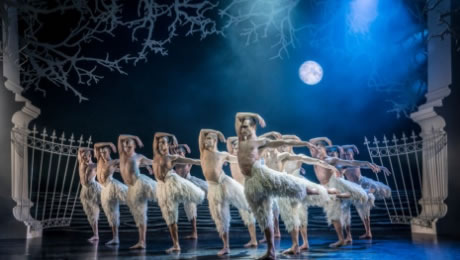 I took my seat for Matthew Bourne's much-hyped Swan Lake at New Wimbledon Theatre expecting to be mesmerised, and I wasn't disappointed.
This contemporay take on a traditional ballet, which only runs in Wimbledon until Saturday (April 20), is a breath-taking production for both audience and cast.
While it retains the elements of the original Swan Lake, including the wonderful Tchaikovsky score, its modern interpration centres on the Prince falling in love with a male swan during vivid dream sequences.
No doubt every audience member in New Wimbledon Theatre last night was anticipating the dance of the all-male group of swans, and that was certainly the most memorable aspect of the show. The swans' costumes, make-up and their occasional, rather scary, hissing noise only added to the nerve-tingling drama and the feeling of animal wildness.
The energy and power demonstrated by those male dancers was just sensational, with the atmosphere enhanced by lighting and stage design that took your breath away at times.
One aspect that did surprise me was that the show was not without humour - especially at the expense of the Prince's girlfriend. There were many times when the dancing did not take itself too seriously, giving the audience some light relief from the darker aspects of the production.
The show opens and closes in the Prince's bedroom, with a fantastic piece of stage design revealing his final moments, with his swan lover still in his mind.
In between the scenes include the opera house, the palace, a royal ball and a seedy nightclub. All are vividly re-created, with a fantastic cast of dancers leaving the audience with some wonderful memories.
I was not shocked that a packed New Wimbledon Theatre gave the show three standing ovations. If you can make this production, you won't regret it and will want to see it again.
Sue Choularton
April 17, 2019