Review: Town centre steakhouse offers value and quality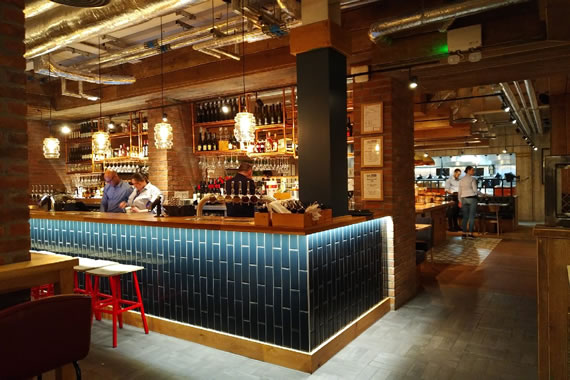 Every time I have passed the latest restaurant to open on The Broadway in Wimbledon town centre - the Bar + Block - it looked to have turned into a popular location, so it was time for me to find out why it had earned its fast-growing reputation.
I have to admit that I'm not a red meat eater, so this slick-looking steakhouse (see the interior pic above) would not otherwise have been number one on my list. But the buzz you pick up from walking by made it a venue I'd been tempted to try since it opened last month.
It's on the ground floor of the town centre's new Premier Inn, which must provide them with a good supply of hungry diners. I wasn't surprised there were barely any empty spaces when we were escorted to our table at the back of the restaurant, close to the open kitchen.
I naturally took a red meat-eating friend along with me to provide a true test of the restaurant's offering, and as we sat down we were told the mini-bucket of popcorn on our table was made with beef dripping - so not for me. My companion isn't a particular fan of popcorn, but it was something for her to nibble on as we perused the extensive menu.
Attentive water Dimitriv explained that beef was reared and slaughtered in South America before being shipped over, while the meat aged as it made the crossing. The back of the menu provided a handy reference to explain where each cut came from.
The menu recommended three grazing plates for two people to share as a starter. We opted for Asian Crispy Beef (£5.50), a Trio of Dips (£4.50) and - although not a grazing plate - a portion of olives at £3.25. Our table of starters (and remaining mini popcorn bucket) is pictured below: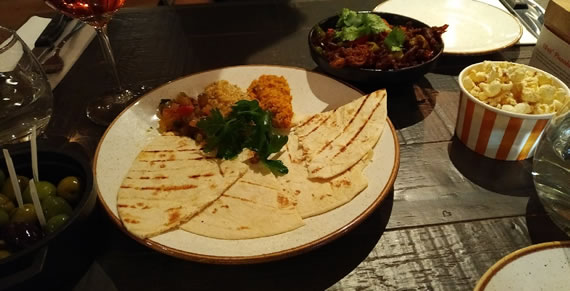 My friend made the following comments about her starter: "I chose a starter of Asian Crispy Beef which consisted of crispy pulled beef tossed in hoisin, cucumber, spring onion, chilli and coriander. The vegetables were shredded which made for interesting colours and textures alongside the pulled beef, and the infused juices and hoisin sauce made for a delicious treat presented as a very generous portion and which augured good things to come..."

Generous is obviously a watchword of the Bar + Block as our portion of olives was also so large that we didn't finish it, despite keeping it with us for the duration of the meal.
My trio of dips came with light and airy tortillas. The dips were a colourful combination of houmous, mixed tomato salsa and carrot & harissa dip. They all had a zingy taste to them as well as a lovely texture, setting me up for my main course.
I opted for the Hot-Smoked Salmon (£14.95), which was cooked over charcoal with potatoes, sprouting broccoli, green beans, rocket, peas and mint, finished with a lemon dressing (see below).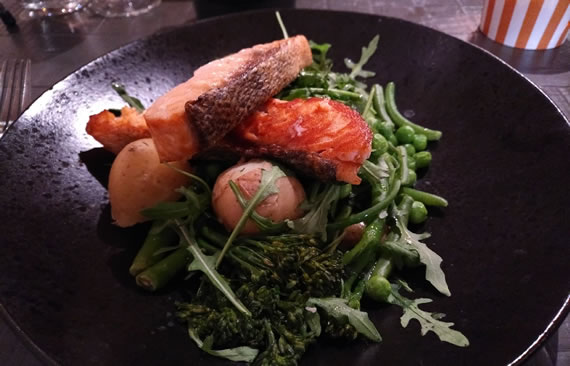 I was impressed to see two delightfully cooked pieces of salmon, atop a bed of delicious-looking vegetables - this would be a challenge to finish! The salmon was just perfect and it was good to report that a steak restaurant could also cook decent vegetables, as they had a very slight crunch in the mouth to them. I have to admit that I didn't pick up on the lemon dressing, but perhaps the zing of my starter was still in my head.
My friend's steak came on an impressive-looking platter (see below) and here's her thoughts: "For my main course I chose the waiter's recommendation of a 10oz spiral cut fillet of beef marinated in garlic and parsley for 24 hours (£25.50).
"I picked a chimichurri sauce amongst the several sauces on offer (£1.50 each), although the steak came with a deliciously rich gravy on the side anyway. I usually take my steaks well done, but was persuaded to try this offering medium rare and I have to admit that this was a good choice. The steak was extremely tender and moist, and the infused flavours of garlic and parsley heightened the fillet experience well. I was not familiar with chimichurri sauce and found it too hot for my delicate palate, but I wouldn't hesitate to recommend it to anybody who is more used to those flavours themselves. My steak was accompanied by a generous portion of lovely, crispy, chunky chips which completed my plate well and simply made me want more!"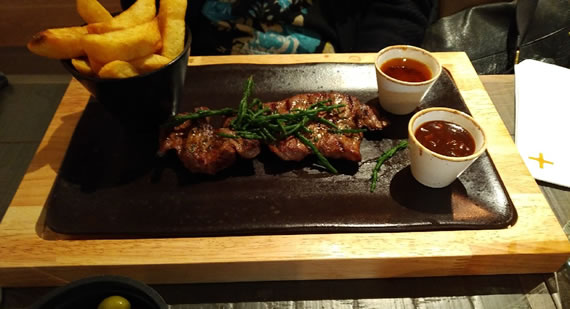 I don't know where we had room for dessert after all that. But, in the interests of providing a full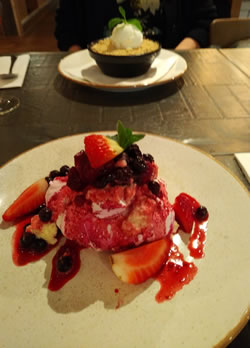 review, we picked two varying dishes from the pudding menu (see picture on the right).
I was after something as light as possible and was recommended the Mixed Berry Pavlova (£5.95), this was just a picture on the plate and came with cream - my mouth is watering now, just thinking about it! True to the waiter's word, it was a light way to round my meal off.
My friend's final comments were: "I finished my delicious meal with a salted toffee apple crumble (£5.95) served with vanilla ice cream. I don't normally eat puddings at home so this was a real treat. The portion was generous. The toffee sauce was rich and gooey and the succulent chunks of apple were wholesome, adding to the relish of the experience. The vanilla ice cream balanced well with the richness of the crumble and filling."
We had a brief chat with our neighbouring dinners before they left, and they were full of praise for the taste and value of the steak experience. Steaks start from 8oz rumps for £12.95, with an 8oz sirloin costing £16.95, which I don't expect can be beaten for price at any eatery in Wimbledon.
At those prices, it's no wonder the Bar + Block was so busy during our visit, although the atmosphere was calm enough for us to enjoy a relaxed chat as we dined. If you're a steak lover I heartily recommend making a booking.
By Sue Choularton
March 8, 2019