Marketing literature shows three blocks towering over former Town Hall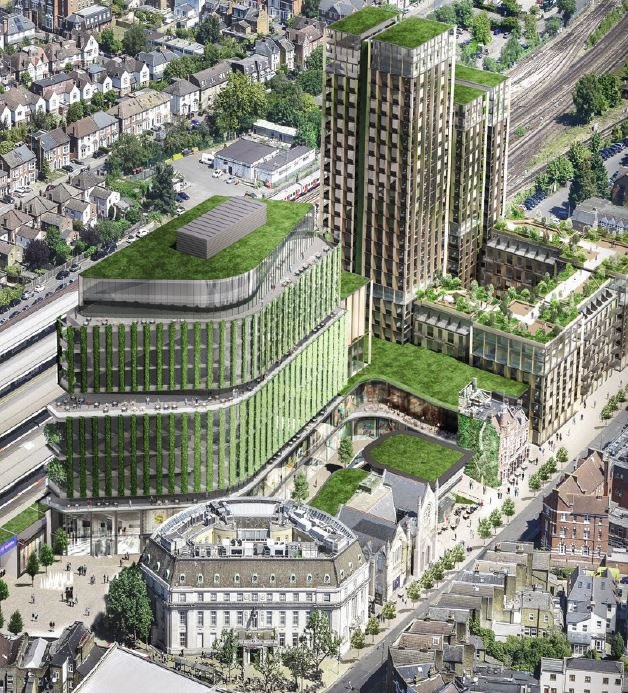 Vision for a new Centre Court shopping centre
An audacious vision for a high rise retail and housing development to replace the current Centre Court shopping centre in Wimbledon town centre is being promoted by a property management company.
Global firm JLL, which buys, builds, occupies and invests in a variety of assets including industrial, commercial, retail, residential and hotel real estate, has created marketing literature to tempt potential investors.
The literature, which shows artists' impressions featuring three tower blocks running parallel to the neighbouring station, points out that the site has been allocated for "mixed-use development" in the proposed Future Wimbledon Supplementary Planning Document.
It also says owner Aberdeen Standard Investment has "engaged extensively with Merton Council for the last three years"…"to influence use mix and massing".
It says the 4.4 acre freehold site, which has not been bought to market since being developed in 1992, has a net annual passing rent of £4.6m.
But local campaign group, the Friends of Wimbledon Town Centre, said it was "concerned" that illustrations in the marketing literature show a "dense development that includes a tower block 25+ storeys high".
A spokesperson added: "We wonder how a high rise block like this could possibly be compatible with the vision and ambitions set out in the Council's Future Wimbledon Supplementary Planning Document. Overall, the suggested development is excessive in terms of its scale and density and potentially damaging effect on listed buildings and the South Park Gardens Conservation Area."
The latest draft of Merton's local plan, which is now open for consultation until February 1, states Wimbledon is not suitable for high rise towers, although a moderate increase in heights might be necessary to enable growth.
It reads: "Wimbledon has no scope to accommodate growth by expanding outwards. The local topography and quality townscape mean that Wimbledon is not suitable for high rise towers therefore to accommodate growth in keeping with the area, sites within Wimbledon town centre need to become denser and accept a moderate increase in heights.
"The council encourages dense mid rise urban blocks similar to those of Bloomsbury where heritage assets are complemented by new buildings of quality design."
Local Councillor Paul Kohler (Lib Dem) said he had seen the marketing literature, but added that he saw little chance of a development of that scale getting planning permission.
He said: "Agents are of course salespeople trying to get a deal, but any buyer that does their due diligence will soon realise there is little prospect of getting planning permission for that height of development."
JLL has been approached for a comment about the designs.
December 18, 2020