Confidential scheme envisages creating local hub of homes and retail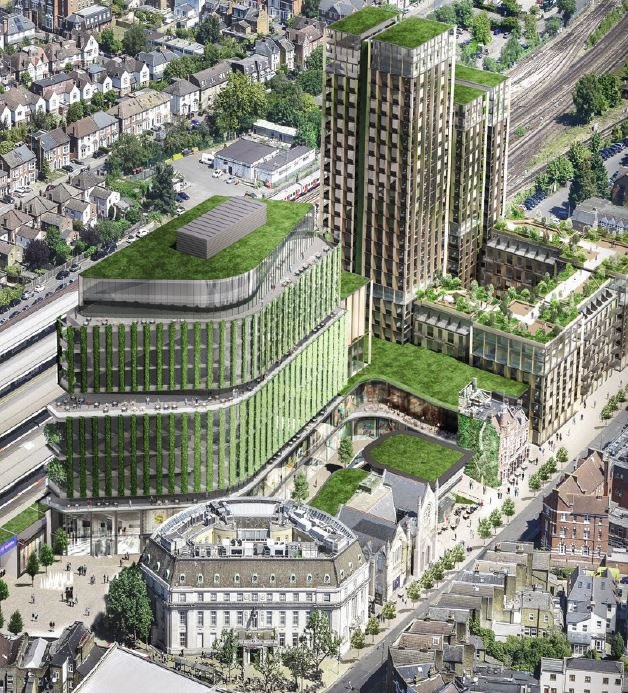 Vision for a new Centre Court shopping centre as published in 2020
Confidential plans to "re-purpose" Centre Court shopping centre in Wimbledon town centre have been discussed by a council committee.
The vision for the 30-year-old shopping centre, now home to more than 65 commercial units, centres on creating a new "local hub".
Merton Council's Design Review Panel (DRP), which advises on design issues relating to new development schemes and proposals for public places, heard details about the plans at a Zoom meeting last month.
The panel does not have to give access to the public for its meetings. But its agenda revealed the plan is to re-purpose the shopping centre with a "wider variety of uses other than retail to create a local hub". It includes "alterations to, and better interaction with, Queens Road and significant residential accommodation above the existing building".
The applicant was scheduled to make a 20-minute presentation to the DRP on September 29, followed by questions. The DRP, which is made up of a group of independent professionals working in the built environment field, was then set to discuss the plans for half an hour before making a summary and verdict to the applicant.
The meeting was attended by seven local councillors, including Trinity Ward Councillors Paul Kohler (Lib-Dem) and Hayley Ormrod (Conservative). Eight panel members were also present, including DRP Chairman Councillor Stephen Crowe and Wimbledon architect Marcus Beale.
Members of the panel are not allowed to reveal any details of the meeting and in meeting notes published today (October 11), it was stated that the notes were confidential.
But last year global firm JLL, which buys, builds, occupies and invests in a variety of assets including industrial, commercial, retail, residential and hotel real estate, created marketing literature to tempt investors to put money into a re-developed Centre Court.
The firm's literature, which shows artists' impressions (above) featuring three tower blocks running parallel to the neighbouring station, pointed out that the site has been allocated for "mixed-use development" in the proposed Future Wimbledon Supplementary Planning Document.
Local campaign group, the Friends of Wimbledon Town Centre, said in December that it was "concerned" that illustrations in JLL's marketing literature show a "dense development that includes a tower block 25+ storeys high".
Centre Court was bought by Fulham-based Romulus Construction in April for a reported figure of more than £70m.
JLL is currently marketing office space in newly refurbished offices above the Sainsbury on The Broadway as well as St George's House West in St George's Road.
JLL has been approached for a comment.
October 11, 2021