SW19 fencers travel to Surrey and Hampshire
Three fencers from Wimbledon Fencing Club competed in the Hampshire open épée at the Mountbatten sports centre in Portsmouth on Saturday (May 9).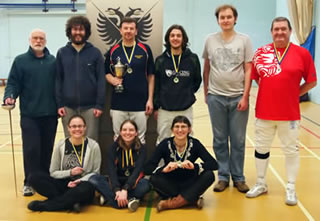 Mark Richardson and Christopher in the men's and Rachel Carter in the women's. Rachel fenced well in what was only her third open event winning two out of three bouts in the first poule round and four out of five in poule two.
This put her in sixth place, She won her first direct elimination bout 15-1 and then had a tough match against Erika Cserny. She took an early lead and maintained her position winning 15-12 in the final period.
In the semi-final she lost to Verity Hillier 15-11 and won bronze. Full results can be found on www.southhampshirefencing.co.uk/hampshire-open then click on results.
On Sunday (May 10) it was the Surrey team épée championships in Guildford.
Wimbledon entered nine fencers in three teams. Wimbledon A – Mark Richardson, Mark Rhind and Tim Buzwell, Wimbledon B – Simon White, Christopher Micklem and Tom Bowey-Strange and Wimbledon women – Emma Burton, Kate Downer and Teresa Miarka. They fenced each other in a mixed competition along with teams from Streatham and Guildford.
All teams fenced in a poule unique but in a three way tie for first place Wimbledon B, A and Streatham had to fence in a barrage with one fencer from each team fighting it out to 10 points.
The first bout was Tim Buzwell from Wimbledon A versus Gavin Molton from Streatham. In a tense fight both fencers were neck and neck with neither taking a decisive lead until almost the end of the second period when Tim gained a two point lead finally winning 10-8. The final match was Tim against Tom Bowey-Strange from Wimbledon B. Tim took and early lead and despite a great come back from Tom eventually won 10-6 so Wimbledon A retain the trophy for the second consecutive year.
May 11, 2015