Under fire council says it is stepping up enforcement action for street littering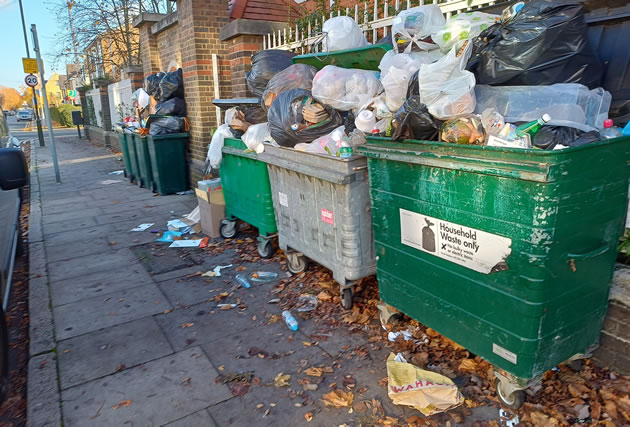 Wimbledon residents are being warned they could be fined for fly-tipping as Merton Council tries to tackle the issue of increasing amounts of rubbish being dumped on the streets.
The council says it has written to more than 2,500 households within a number of "pilot areas", including the Abbey ward area around Kingston Road, to remind them of the correct way to dispose of their waste.
But many residents are critical of the way council contractor Veoila deals with waste collection, citing occasions when the company fails to pick up rubbish on planned days and regular calls being made to chase them up about problems.
Earlier this week a big pile of rubbish accumulated in bins on Pelham Road (see picture above) after residents say Veolia failed to carry out their weekly rubbish collection. It was eventually taken away nearly two weeks after the usual collection date.
Councillor Natasha Irons, Council cabinet member for Local Environment and Green Spaces, was asked for an update on the number of Fixed Penalty Notices (FPNs) issued for fly-tipping at a full council meeting on Thursday (November 18).
She said that between October 2020 and September 2021 the council issued a total of 248 FPNs for fly-tipping.
"Our fly-tipping strategy has the primary aim of aligning our approach in tackling fly-tipping, not just through efficient and targeted enforcement but through wider engagement with service partners, community groups and stakeholders.
"The goal of the strategy is to provide an overall reduction in fly-tipping incidents and an improved satisfaction of our residents regarding the cleanliness of the streets within their communities.
"As part of our fly-tipping action plan, the service has reinforced the Council's zero tolerance to fly tipping at identified target areas in which we have deployed additional resources in the issuing of FPNs for fly-tipping.
"The primary focus in the short term is to address the dumping of rubbish on the streets such as furniture and black sacks. We know that the majority of residents do not do this but sadly, there is a small minority who think it is OK.
"To date, we have written to over 2,500 households within the pilot areas advising them of the correct way to dispose of their waste along with reminding them the discarding of waste outside of our collection schedule is a criminal offence."
Councillor Irons warned that the council has increased the number of enforcement officers patrolling this area and anyone caught dumping rubbish will be issued with an FPN of up to £400 or prosecuted under the Environmental Protection Act 1990, which can result in fines, court action and a potential criminal record.
She said that since the pilot scheme has commenced, the service has issued 55 additional FPNs.
Resident Neil Murphy tweeted via@Neilm74 about the rubbish in Pelham Road: "For some reason @VeoliaUK decided to not empty our bins last week. Collection day used to be weds. It has been a bit fluid over covid sometimes Thurs very latest Friday. Calls have gone into @Merton_Council, but as of Tues evening nada".
Mark Gale replied via @MarkGale: "A problem that the council has failed to get to grips with over the numerous cabinet members".
The Lib Dems in Abbey ward reacted to the statement made at the council meeting as follows: "Listening to tonight's @Merton_Council meeting it seems Labour's response to the fly-tipping problem is going to be to put up more signs telling people not to fly-tip. The council really needs to come up with some better answers than this."
November 18, 2021