More than 20 vehicles have their tyres deflated, according to protestors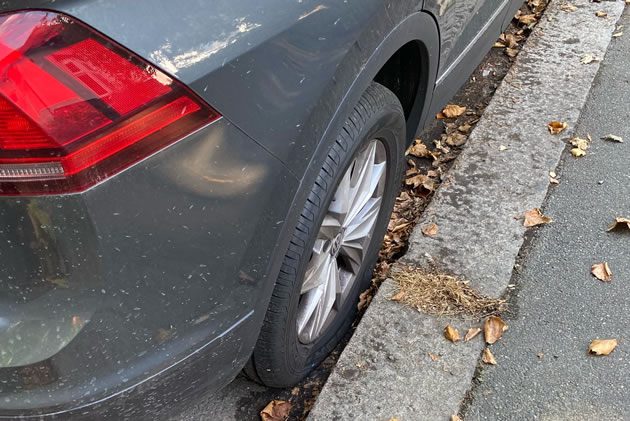 SUVs have their tyres deflated in Wimbledon
Eco campaigners protesting against the rise in the use of SUVs (Sports Utility Vehicles) and 4x4s have deflated the tyres of a number of cars parked in Wimbledon.
Members of a group calling itself the Tyre Extinguishers claim to have let down the tyres of 21 vehicles during two nights earlier this month.
They left a leaflet on the windscreen of each vehicle stating: "ATTENTION – your gas guzzler kills. We have deflated one or more of your tyres. You'll be angry - don't take this personally. It's not you, it's your car.
"We did this because driving around urban areas in your massive vehicle has huge consequences for others.
"Car companies try to convince us we need massive cars. But SUVs and 4x4s are a disaster for our climate. SUVs are the second-largest cause of the global rise in carbon dioxide emissions over the past decade - more than the entire aviation industry."
The group said action they took in Bernard Gardens, Glendale Drive and Lake Road areas of Wimbledon on August 18 and 19 was the first they had undertaken in SW19.
Other areas hit in London since March include: Belgravia, Clapham, Chelsea, Chiswick, Crouch End, Hackney, Harley Street, Hampstead Heath, Muswell Hill, Notting Hill, Paddington, Primrose Hill, Stamford Hill and Walthamstow.
They claim to have campaigners around the world and to have "disarmed" more than 5,000 SUVs since their protest started earlier this year.
On their website they state: "We want to make it impossible to own a huge polluting 4x4 in the world's urban areas. We do this by deflating the tyres of these massive, unnecessary vehicles, causing inconvenience and expense for their owners."
August 27, 2022