Nine-storey residential tower to be built alongside new supported housing
The planned YMCA building and residential block alongside are pictured above
Work has begun on replacing the deteriorating YMCA building in Wimbledon town centre with a new eight-storey block, alongside a nine-storey private homes development, in a building project which will take nearly four years to complete.
The YMCA – which provides much-needed short-term supported housing for over 16s – will increase its capacity from from 111 to 121 hostel rooms, including en-suites and shared kitchens.
Currently men and women have to share run-down washing facilities in the 1970s-built block pictured on the right. It is hoped the new development will give them a better quality of life and support them back into independent living.
The nine-storey neighbouring block on The Broadway will consist of 135 one and two-bedroom flats. This will help finance the cost of the new YMCA building, and provide some homes suitable for first-time buyers.
There will also be two retail units on the ground floor and new public open space. The YMCA building also offer a gym, fitness studios, children's area and a cafe, for use by the wider community.
Developers Thornsett had originally proposed a 15-storey residential development but in the face of local opposition, it was reduced in height by six storeys.
The current development has been more broadly welcomed, but it has not been without criticism.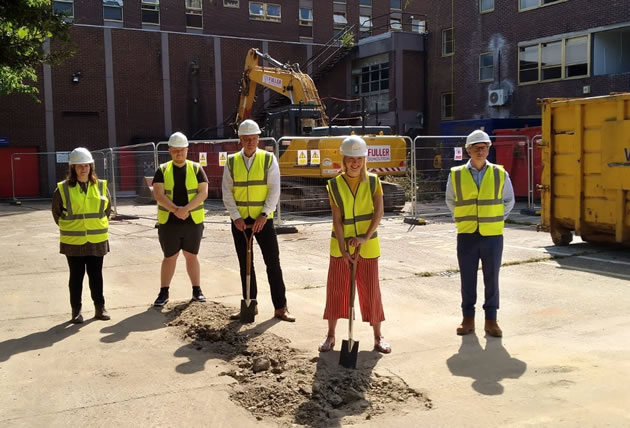 Work starts on the YMCA development
Councillor Eleanor Stringer, Joint Deputy Leader of Merton Council and Cabinet Member for Children and Education: "I am delighted to be able to mark the start of a new future for the YMCA in the borough. It is exciting to see work begin to provide enhanced accommodation for vulnerable young people locally and to offer facilities that will benefit the whole community, as well as much-needed new homes."
Richard James, CEO of YMCA St Paul's Group, added: "This is an extremely exciting moment for YMCA St Paul's Group, our residents and the local community, as we break ground on the new YMCA Wimbledon. Our vision is to create places where young people thrive and communities flourish and this new state-of-the-art YMCA building will enable just that. We're grateful to the local residents, Merton Council, Thornsett, Neilcott and Councillor Stringer for their support of this important development."
But @Sandra4Mitcham said on Twitter: "Missing sustainable, environment, green trees. Turning Wimbledon into a concrete jungle?"
And @WatkinsonGary added: "Not yet convinced that this was the correct development for this site. I shall wait and see."
August 27, 2021