Dissatisfaction over service performance up by two thirds under Sadiq Khan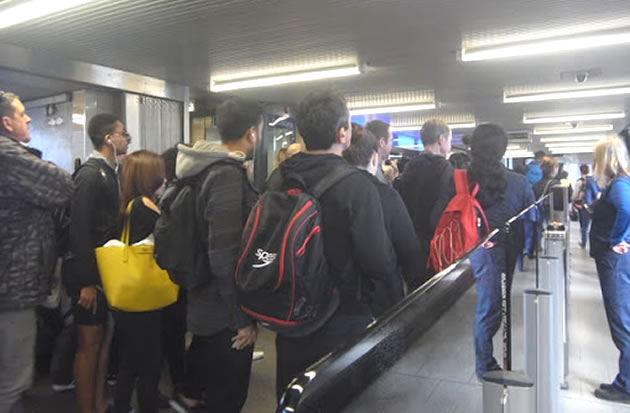 Overcrowding on Transport for London services
Complaints to Transport for London (TfL) have hit a five year high, as angry commuters voice more concerns about staff and service provision.
There were more than 110,000 complaints to the network in the twelve months to September 2019 – the most recent full year for which data is available.
That's almost 20 per cent more than two years ago, when Sadiq Khan first took office, according to data revealed by Conservative London Assembly member Keith Prince.
There were fewer than 93,000 complaints in the year from September 2016 – down from almost 108,000 the previous year under Boris Johnson's mayoralty.
This could in part reflect the high number of Tube strikes when the Prime Minister was at City Hall, as he pushed for major changes on the Tube.
Almost 6,500 work days were lost to industrial action the year Mr Johnson left the Mayor's office, compared to less than 2,500 when Mr Khan took over.
But since the current Mayor took the helm, complaints about TfL service performance have risen almost two thirds, from less than 16,000 two years ago, to over 25,500.
Complaints abour staff are up 20 per cent from 38,500 to 46,000.
The Mayor has faced a number of setbacks on transport during his term.
The new Crossrail line has been delayed as much as three years from the original 2018 opening date, with costs rising £2 billion from a starting point of almost £15 billion.
And with limited stretch in TfL's finances, infrastructure upgrades like signalling on the Piccadilly line or the Bakerloo and DLR extensions have been delayed.
Mr Prince – the Conservative transport spokesman on the Assembly – said rising dissatisfaction showed how TfL's financial struggles have had "a real and damaging impact" on transport in the capital.
He said: "Sadiq Khan's misguided financial decisions have blown a massive black hole in the TfL finances, which has led to cancelled infrastructure upgrades and a huge surge in overcrowding across the network.
"Against this backdrop, it is no surprise that Londoners are increasingly being left with no option but to complain to TfL."
But a spokesperson for the Mayor said complaints were "a tiny fraction" of the millions of daily journeys on TfL's network.
He said the network had changed the complaints procedure in 2017, making it easier for passengers to share concerns – which he claimed accounts for the increase in complaints.
He said: "Sadiq has frozen TfL fares every year since 2016 to make public transport more affordable for millions of Londoners, has introduced the Night Tube and is continuing to invest record amounts in modernising and increasing capacity on London's Tube network.
"Meanwhile more trains have been added at peak times on the Victoria, Northern and Jubilee lines to directly tackle overcrowding and make journeys more comfortable for commuters."
Jessie Matthewson - Local Democracy Reporter

February 20, 2020