Existing fleet would have cost £4 million a year extra to run due to ULEZ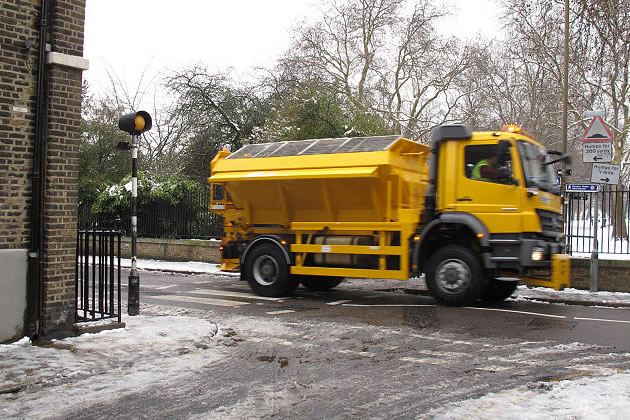 Gritting lorries to be replaced. Picture: Steven Craven
Wandsworth Council have decided to replace the borough's existing fleet of 32 commercial vehicles with 28 replacements that produce lower emissions.
The decision was taken at Wednesday night's (4 November) meeting of the strategic planning and transportation scrutiny committee.
Some of the new vehicles will be electric and others will be hybrids. A number of these more eco-friendly vans and trucks will be purchased outright while others will be procured on short term lease agreements so they can be replaced with more environmentally friendly equivalents when vehicle technology improves.
Under the current proposals 12 vehicles will be bought outright and 16 will be leased. These range from cranes and cherry-picker units to tipper trucks, gritters and gully clearance tankers. These vehicles are typically used for highways and housing repairs and maintenance, winter gritting and dealing with dangerous structures.
Without the changes to the fleet LEZ and ULEZ changes in London could have cost the council in excess of £4million a year.
The council's existing commercial vehicles will be sold off to generate funds towards the cost of their replacements and it is hoped that because the decision is being taken to sell them before they reach the end of their useful life they should secure a reasonable return.
Transport spokesman Cllr John Locker said, "Last year the council set an ambitious target to be inner London's cleanest borough, by becoming carbon neutral by 2030 and carbon free by 2050. Everything we do as a council has that important objective front and centre.
"With this in mind we are taking steps to green up our existing mainly diesel powered vehicle fleet. We will be investing more than £1m in buying cleaner and greener vehicles and additional sums in leasing others that are more energy efficient and produce lower emissions.
"And over the course of the next three years, we believe greener vehicle technologies will come to the fore and that will allow us to replace those that have been leased with upgraded and more eco-friendly alternatives."
The council says that utilising a cleaner and greener electric, hybrid and fuel-efficient fleet will not only offer a boost to local air quality levels it will also help avoid charges when the Mayor's new Low Emission Zones come into effect next year.
In March 2021 changes to the Mayor's London-wide Low Emission Zone (LEZ) will tighten the emission standards that apply to lorries, buses, coaches and specialist heavy vehicles. Tougher standards will apply to buses and coaches over 5 tonnes and lorries and specialist vehicles over 3.5 tonnes. Those that do not meet these standards will attract a daily penalty of up to £500 per vehicle.
And this will be followed in October 2021 with the long-planned expansion of the Ultra-Low Emission Zone (ULEZ), which will extend from Central London to include all parts of the capital within the north and south circulars - including parts of Wandsworth, Putney and Battersea. Failure to meet these new standards will attract a daily charge of up to £1,000 per vehicle being driven within the zone, with a 50 per cent reduction if paid within 14 days.

November 6, 2020