Development will feature a 94-bedroom hotel and retail space
Plans have been revealed for a 94-bedroom upmarket hotel, with retail space, in Wimbledon town centre.
Artists' impressions of the plans for the historic 'Bank Buildings' at 41-47 Wimbledon Hill Road were revealed at a public exhibition.
Wimbledon-based Crown Properties, who own the site which had been occupied by a range of businesses, are hoping to complete their development by early 2020.
More than 120 people visited the Wimbledon Library exhibition to inspect the plans and give feedback prior to a planning application being submitted to Merton Borough Council in the next few weeks.
The hotel will be accessed from Alwyne Road, with its upstairs reception accessed via a lift. There will be no car or coach parking spaces.
Paul Dimoldenberg, spokeman for the developers, said they were talking to hotel operators and were hoping to secure an agreement with a 4-star hotel.
There would be two retail units, which could be adapted into one unit, on the ground floor. They do not plan for these to be occupied by a restaurant or an estate agent.
Mr Dimonldenberg said: "We are hoping for an upmarket hotel which befits this wonderful building. The retail units will also be high quality."
The scheme would involve demolition of an old building used for storage space at the back of the building, with a new extension (left) to be built on that land.
The development would rise to a fourth-floor hotel bar, which would feature a roof rising above the height of the existing locally-listed building.
A model of the plans is pictured below: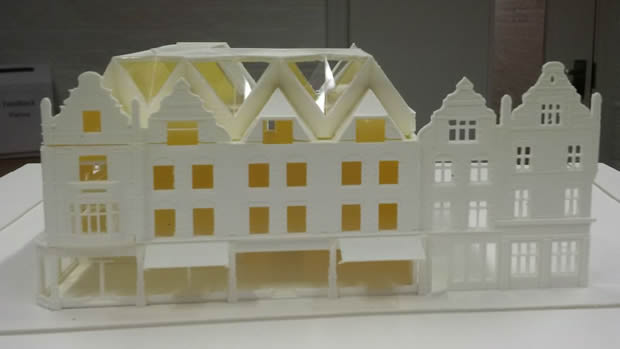 Several of the businesses - Ernle Estates, Ludlow Thompson estate agents and the empty A E Halfhide jewellerson - on the ground floor of the buildings on Wimbledon Hill Road will have left by the end of this month.
Three other businesses - Amity College, Access College and a hairdresser - are remaining on a temporary basis.
Do you welcome the plans? Why not comment on our forum?
January 13, 2018