Sadiq Khan dismisses health secretary's claim that full service is possible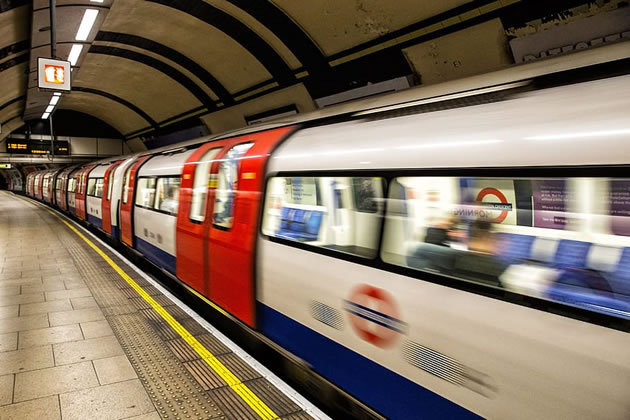 Rush hour Tube use fell this Wednesday morning (25 March), as commuters responded to advice from the Mayor of London and the Government to stay at home.
There were already 88 per cent fewer passengers on the Underground yesterday than the same day last year, and 76 per cent fewer on buses.
And Tube use was down by a further third this morning, while bus rides fell another 20 per cent, according to Transport for London (TfL) data.
Sadiq Khan today thanked Londoners who are choosing not to travel – but said more must "do the right thing and stay at home".
And the Mayor again called on the Government to shut down building sites and reduce the burden on public transport – as construction workers continued to travel.
It comes after Health Secretary Matt Hancock yesterday attacked Mr Khan's decision to cut TfL provision, saying the Underground should be "running in full".
Speaking at the Government's daily press conference last night, Mr Hancock said: "There's no good reason in the information I've seen that the current levels of Tube provision should be as low as they are. We should have more Tube trains running."
Defending the Government's decision to keep building sites open, the Health Secretary said many countries have "made the same judgement" as the UK.
He said construction work can continue as long as builders stay two metres apart.
But this morning, Mr Khan said TfL could not run more trains because almost a third of staff are now off sick or self-isolating.
The Mayor said many staff have "years of safety-critical training in order to run specific lines" so it is "simply not possible" to quickly replace them.
He said: "TfL will do everything possible to continue safely running a basic service for key workers including our amazing NHS staff.
"But if the number of TfL staff off sick or self-isolating continues to rise – as we sadly expect it will – we will have no choice but to reduce services further."
The Mayor said 500 British Transport Police are helping control the flow of passengers at stations.
TfL has also switched off down escalators, and arranged for some national rail trains to pass through busy Underground interchanges during peak hours to reduce pressure on services.
The transport network is running around 15 trains an hour on most lines during peak times – with as few as three an hour at other times.
The Circle and Waterloo & City lines have been suspended, along with the Night Tube, and buses are also running a reduced weekend service.
The Mayor today shared his "immense personal gratitude" for TfL staff keeping the capital moving.
He said: "You are doing our country a great service at this time of national emergency by ensuring our NHS staff and other key workers are able to get to work and save lives."
The Government has now (March 23) ordered everyone to stay at home unless absolutely necessary to fight the spread of coronavirus. You can find the latest guidance here.
Advice on the virus from Public Health England is available here.
Written with contributions from Jessie Matthewson - Local Democracy Reporter

March 25, 2020