NHS workers using network say numbers using trains 'frightening'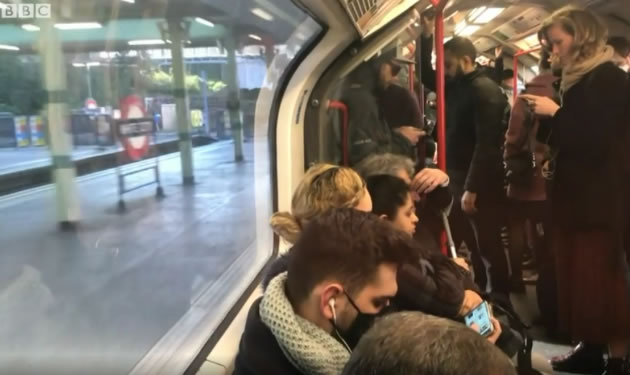 Crowded tube during coronavirus outbreak
Cuts to Tube and buses in London have led to overcrowding during the coronavirus outbreak, Britain's biggest travel watchdogs have said.
Passengers claim busy Underground trains due to reduced frequencies have meant a "lack of social distancing", according to Transport Focus and London Travelwatch.
During virus lockdown, people have been asked not to leave the house except for key work, essential shopping or medical care.
Journeys on Transport for London (TfL) services have fallen dramatically since the restrictions were introduced.
Tube use is down 95 per cent on the same time last year, while bus use is down 85 per cent, according to the network.
But at the same time, transport provision has fallen – the Tube has moved to a weekend service, and the Night Tube, Circle and Waterloo and City lines have shut.
Almost half of Underground trains have been cancelled as a result of the changes – though 90 per cent of buses are still running, the Mayor has said.
But key workers are worried some Tube trains are too busy, according to a report from the travel watchdogs released this Monday, (20 April).
Transport Focus surveyed more than 5,000 Londoners between April 2 and 7 on their travel in the past week.
Passengers are worried that peak time Tube services are too busy, though there was "much praise" from those travelling at quieter times, the report said.
Bus and train users were more positive than those travelling on the Underground. They said social distancing is easier as services are generally quiet.
But travellers also said they felt more vulnerable to criminals, and were concerned about "aggressive begging", particularly at quieter times.
One social care worker said trains are "very, very quiet and the better for it".
But an NHS staff member travelling on the bus said there are "still many people", and another said Tube journeys are "frightening" because of the numbers travelling.
One Underground user said cuts to public transport were "self-defeating", and had switched to driving because they were "alarmed" by crowds.
Those making essential shopping trips reported quieter journeys, but complained that TfL announcements made them feel guilty.
One Tube user criticised TfL for "treating you like a criminal if you use public transport".
A bus passenger with a visual impairment said it was "distressing" that an announcement said only NHS workers should use the service, when many disabled people rely on public transport.
Many Londoners have not had refunds for season tickets, the survey found.
Although some chose to keep their passes so they could travel, a quarter did not know they could get cash back, or were not sure how to apply.
A spokesperson for Sadiq Khan said TfL is running "the maximum number of services possible with the limited staff resources available".
He said: "This is because in the last month as many as one in three frontline tube staff have been off sick or self-isolating, including train drivers and crucial control centre staff.
"The Mayor continues to urge Londoners to only use the transport network for essential travel – people should work from home whenever possible to help protect key workers."
TfL was also approached for comment.

Advice on the virus from Public Health England is available here.
Jessie Matthewson - Local Democracy Reporter

April 20, 2020